Kevin Nicholson: Ex-Torquay defender considers Australia move
By Brent Pilnick
BBC Sport
Last updated on .From the section Football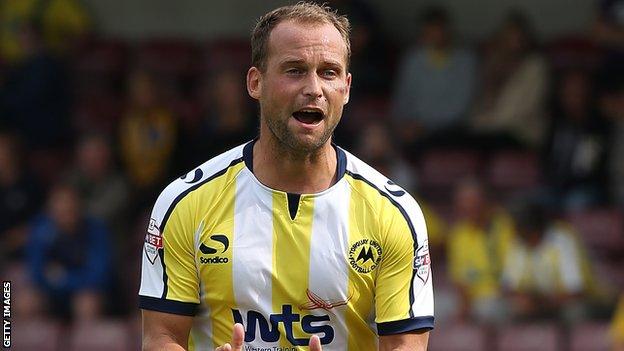 Former Torquay defender Kevin Nicholson says he could move to play Australia if he does not find a club in England.
The 33-year-old left-back after seven years at Plainmoor and has received an offer from a side in Tasmania.
"I've had a few sniffs where people have enquired about me," Nicholson told BBC Sport.
"But we've never got to the stage of 'we'll offer you this much money and this long a contract'."
Nicholson has been a professional since 2000, when he made his debut for Sheffield Wednesday against Blackburn in what is now the Championship.
But after his only firm offer has come from Launceston City, a club that plays in Tasmania's T-League, which is one rung below the country's national A-League.
"My wife's very supportive and is willing to go pretty much anywhere it takes to carry on my career," Nicholson said.
"The only actual firm offer I've had is from Tasmania, which would put the theory of 'we're willing to go anywhere' thoroughly to the test.
"I've been speaking to the manager out there, he's very keen, and at the end of the day as a footballer you only get once chance of playing and you're a long time retired."
Nicholson is still hopeful of finding a club on this side of the world, but admitted he may take up the offer of moving over 11,000 miles to Australia.
"It would give myself and the family a different way of life and learn something different.
"I'd love to go into coaching and managing when I finish and you never know what you might learn in places like that.
"I'm certainly taking the offer seriously and looking at it. But I know I've got plenty to offer over here, I just need the opportunity."
While he has not been training with a club this pre-season, Nicholson has been hard at work in the gym and on the pitch with a personal trainer and a specially-designed fitness regime.
"In a strange way I'm quite enjoying it because I feel fit, strong and in control, but now it's getting to the time of year when you need to be playing games.
"Some players don't enjoy playing pre-season games, but on the other hand, I really enjoy it because you're playing football and it's a change from just doing fitness stuff and going through the motions in training."
He added: "I can honestly say I'm fitter now than I was at 18, but I'm coming from a club that was relegated last season, so from my agent's point of view I'm probably not the easiest sell.
"At the same time it was only two years ago that I was in the and I'm fitter now than I was then.
"I just need that opportunity to set foot on the pitch and show these managers that I'm more than good enough to give them another three or four years."