Luis Suarez: Liverpool must not rush to spend, says Aldridge
Last updated on .From the section Liverpool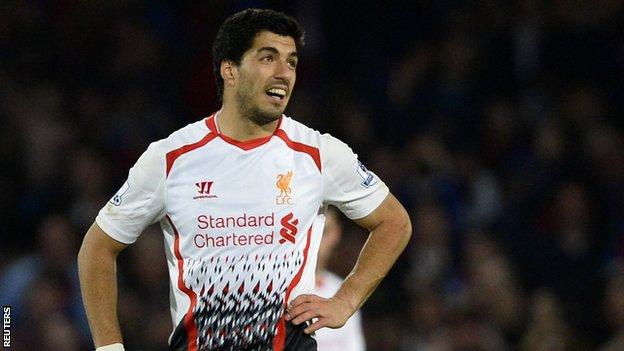 Luis Suarez is an "absolutely sublime" talent that may prove impossible to replace, according to John Aldridge.
Aldridge pointed to Tottenham's struggles to replace Gareth Bale last season as a "lesson to be learned".
"Four or five quality players couldn't do what Bale did," Aldridge said.
Suarez, who scored 31 league goals last season, will travel to Barcelona next week for a medical ahead of signing a five-year deal.
"He's irreplaceable. Absolutely sublime," Aldridge added on BBC Radio 5 live. "I've watched Liverpool for 50 years and he's right up there with the best.
"He comes with baggage but what he's done for Liverpool on the field has been unbelievable."
BBC Sport football expert Mark Lawrenson
"You can't pay a player like him so much money to be sat in the stands. There's an inherent problem and I think Liverpool have done well to get the money they've got for him. They'd reached a point of no return.You've got to be careful how many players you bring in. Spurs brought in too many. They are going to have to get someone who fits into the way they play. But you can't replace Suarez, you can't replace the goals, and you can't replace the fact that last year he was an absolutely world-class footballer."
Liverpool were already without Suarez for the early stages of next season after he was handed a four-month worldwide ban for biting Italy's Giorgio Chiellini during the World Cup, but confirmation of his departure will only intensify focus on the club's activity in the transfer market.
Prior to Bale's £86m move to Real Madrid a year ago, Spurs spent more than £100m to bring in the likes of Christian Eriksen, Vlad Chiriches, Erik Lamela, Roberto Soldado, Paulinho, Etienne Capoue and Nacer Chadli.
Spurs nevertheless endured a difficult campaign that saw both Andre Villas-Boas and Tim Sherwood sacked as head coach.
"We have to go and get the right players," Aldridge said. "In Brendan Rodgers we trust. With the stash of money he's got, you're looking at a kitty of £110 million, which can do a lot of damage.
"Whether you'll get anybody who can do a lot of damage who can get 30 goals is very debatable."
Liverpool have already signed striker Rickie Lambert, 32, and midfielder Adam Lallana, 26, from Southampton for a combined fee of £29m, while Emre Can, 20, has also moved joined from Bayer Leverkusen in a deal worth £10m.
The club have also agreed a deal with Lille for Belgium striker Divock Origi and are in advanced talks to sign Serbia winger Lazar Markovic from Benfica.
Former Liverpool manager Roy Evans said he was sorry to see Suarez leave the club, adding that even though the Uruguay striker has now been found guilty of biting opponents on three separate occasions, he had seen a "lot worse on a football pitch".
"I am very sad that he's gone," said Evans, who was Liverpool manager from 1994 to 1998.
"I think he's an absolutely great player. People can criticise, of course, but for Liverpool over the last three years, some of the football that Suarez has played has been absolutely fantastic.
"I can't condone what he did. Obviously in our culture biting, spitting, scratching isn't part of it but I've seen a lot, lot worse on a football pitch.
"I think Liverpool have done all they can to try and help him. It's just a problem that Luis Suarez has."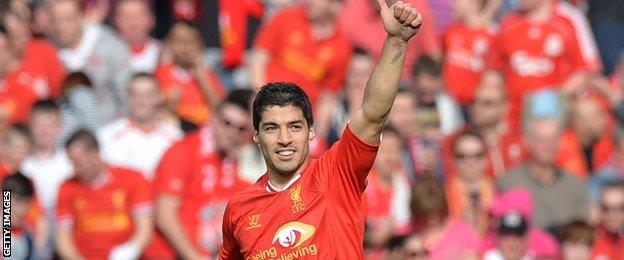 Liverpool captain Steven Gerrard wrote on Instagram: "On an emotional day for me. Would just like to say what a pleasure it has been playing with an amazing talent such as Luis.
"I would like to thank him for his outstanding contribution on the pitch during his time @liverpoolfc and to wish him and his family all the best on his new adventure in Spain. #lfclegend."
Former Liverpool defender Jamie Carragher feels it is the right time for the club to sell the controversial striker.
Carragher played alongside Suarez for two and a half years before retiring last summer and said on Twitter: "Luis was the best LFC player I played with bar [Steven] Gerrard. Gutted he's gone but was inevitable he would go to Spain one day.
"It was the right time for everyone. He wanted to go. We got a good price considering incident at [World Cup]."
Former Reds midfielder Dietmar Hamann was of a similar opinion, writing on Twitter: "Glad the Suarez saga is over. Not surprised how it ended. The club will be better off without him."
Ex-Liverpool captain Phil Thompson said Suarez "might have been the best player in the world the way he played last year".
He added on Sky Sports News: "He was absolutely superb and it was wonderful to have him playing for Liverpool.
"You were always worrying if there'll be someone else, but sooner or later there is a superstar. Yes, it will be a loss without Suarez and his ability but I'm quite sure we are in good hands, as long as we spend the money right."
Reaction to Suarez's exit was not limited to former Anfield stars, with Norwich goalkeeper John Ruddy quick to point out his dubious role in Suarez's impressive goal return in England.
Suarez scored 11 goals in five matches against Norwich - 10 of those coming against Ruddy in three hat-trick displays.
Ruddy therefore conceded around one-seventh of Suarez's total league goals for Liverpool.
"Got to be in for a cut of the Suarez deal surely?!" the England keeper joked on Twitter.