Celtic: Gary Martin's Champions League goal for KR Reykjavik

By Richard Wilson
BBC Scotland
Last updated on .From the section Football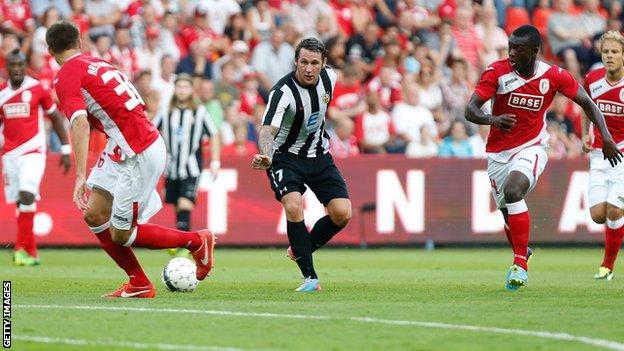 Champions League qualifying second round, first leg
Venue: KR-völlur, Reykjavik. Date: Tuesday, 15 July. Kick-off: 20.00 BST
Coverage: BBC One Scotland, BBC Radio Scotland 810MW, BBC Sport website
KR Reykjavik striker Gary Martin has stockpiled admiration as well as goals in Iceland.
He only moved to the country to play 10 games to improve his fitness during the close season, but has remained there for five seasons because clubs coveted his ability.
That was heartening for a player who, at 19, had found his career drifting after being released by Middlesbrough. He had been a promising attacker in the club's academy, but it took moving abroad to sharpen his focus and commitment.
It is a different player, at 23, who will face Celtic in the Champions League on Tuesday evening. Martin has developed his game as well as his mentality, and at KR, the Icelandic champions based in the capital city, he is thriving.
Martin was voted the best foreign player in the league last season, even though he does not think he played particularly well.
"I scored a few goals, but I'm playing a lot better this season," Martin said. "You've got to learn in football, and grow up as a player as well as off the pitch. I've learned a lot."
This young Englishman has found his confidence and his certainty in Iceland. He only moved to the country because his agent suggested a spell there one summer. Martin signed for IA Akranes for 10 games. He scored nine goals, and his career began to turn around.
"I [then] signed for a year, we won the [second tier] in 2011 and then in 2012 KR bought me halfway through the season," Martin said. "I had to start at the bottom, I didn't just come here straight from England to the best team in Iceland.
"You have to prove yourself. Icelandic football is a lot better than people think it is - QPR are going for an Icelandic striker, one's just gone to Real Sociedad, they were 20 minutes away from the World Cup, so Icelandic football is on the rise. It's a good place to play.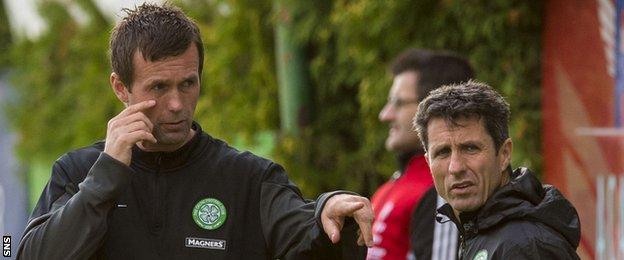 "It's going to be a good test for us [against Celtic]. They're at a lot higher level than us, but football's only small margins. We're going to have a go, we're not just going to lie down. We'll have a go, we've got some good players who have played abroad.
"We know we're going to have to play the game of our lives and Celtic are going to have to have a bad day if we're going to get a result."
Martin is likely to play behind Kjartan Henry Finnbogason, the striker who was at Celtic as a youth but never broke into the first team. They have developed an effective understanding in what is often a mobile and variable front line.
The KR manager, Runar Kristinsson, is admired for his work at the club - he has won a trophy in every year since he took over in 2010 - while his assistant, Petur Petursson, won the Icelandic golden boot during his playing career.
The average crowd at KR's games is around 2,000, although it can rise to 3,500 for major fixtures. The return leg in Scotland on 22 July, at Murrayfield during Celtic Park's use as a Commonwealth Games venue, will present a disconcerting challenge to the players, but Martin insists they will not be fazed.
The reality is that Celtic should overcome their opponents with relative comfort, even if KR have been playing competitively for several months because their domestic league, the Urvalsdeild, is staged during the summer.
The Scottish champions, who have been limited to pre-season friendlies, will be missing their injured captain, Scott Brown. Martin believes that KR might have a "slight advantage" since this is Celtic's first competitive game of the campaign.
KR Reykjavik factfile

Founded in 1899

Entered European competition for the first time in 1964

Winner of 26 top-flight titles and 18 domestic cups in Iceland

Yet to qualify for group stages of either Champions or Europa League competitions
There is no uncertainty to the extent of the challenge. Martin maintains his interest in British football through the satellite television coverage he has set up at his apartment. He often watched Celtic and the Scottish coverage last season, and will pass that knowledge onto his teammates.
"I know which players to watch out for and what the dangers are," he said. "I should have some good input for the team."
Martin is not inhibited by the prospect of facing Celtic. His career has gathered momentum in Iceland, and his hope is that it might yet return him to England, where he wants to prove that he can establish himself.
He has a fiancee, a comfortable life and another 18 months on his contract in Reykjavik. There is also a point to prove about the player that he can be, though.
"I've still got a job to focus on here, which is trying to win the league and get through against Celtic," he adds. "Then we'll see what happens.
"I'm always looking to take the next step and I really do want to go home to play. That is the number one priority on my list; to go back to England and tick that box.
"The biggest thing was leaving my family at 19 years old for nine months a year, that's difficult, but I've grown up from that. You never know until you try and it's probably the best decision I've ever made to get on a plane to Iceland."