World Cup 2014: Joachim Low eyes years of Germany success

By Phil McNulty
BBC Sport chief football writer in Rio de Janeiro
Last updated on .From the section 2014 Fifa World Cup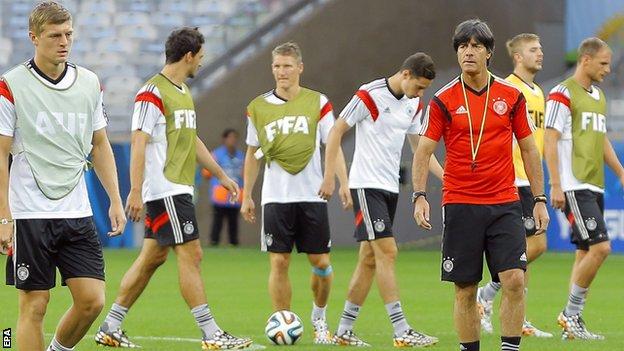 2014 Fifa World Cup final
Venue:
Maracana Stadium, Rio de Janeiro
Date:
Sunday, 13 July 20:00 BST
Coverage:
Live and uninterrupted on BBC One, the BBC Sport website and BBC Radio 5 live
Germany coach Joachim Low is confident his side can make history by becoming the first European team to win the World Cup in South America - and set up years of domination.
Low, who insists Germany have no fear of Argentina superstar Lionel Messi, said: "We have young players who aren't even here and other players with a fantastic future such as Ilkay Gundogan, Marco Reus, Mesut Ozil, Andre Schurrle and Thomas Muller.
"They can go on to play for a number of years. We can play on top of the world for a good number of years, with some young players coming in to reinforce the team."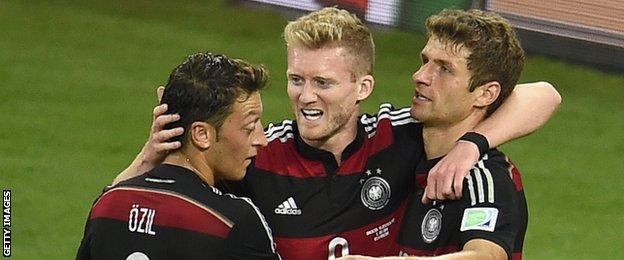 As Germany seek their first World Cup win since 1990, when they beat Argentina in Rome, Low, 54, relished the prospect of re-writing the history books with winning on this continent.
"We know we can write history," he said. "In the past we have never had this. Latin Americans, on this continent, have dominated all the time. So why not? This could be an additional joy for us if we were to win as Europeans on Latin American soil."
And the prospect of facing Messi as he tries to emulate Diego Maradona, who inspired Argentina to their last World Cup win in Mexico in 1986, does not daunt Low.
He said: "We don't have any fear whatsoever. I know it is going to be a match between two teams who have had fascinating duels in the past, in tournaments or friendlies.
"This team is not only about Messi. If you believed it was, you would be making a mistake. They have Angel Di Maria, Sergio Aguero, Gonzalo Higuain - it is not a team dependent on Messi.
"He is a player who can really determine a match but this team is better organised than in 2010, when we beat them 4-0 in the quarter-final. This is what they've shown throughout the tournament.
"I think it will be a gripping final with both teams fighting. Our match against Brazil will not be the rule. If anyone thinks it is they've not looked at Argentina. It's going to be two teams at exactly the same level facing each other. We have the confidence and we respect our opponents' strength but we believe if we can impose our game we will win."
Germany's bright future
Manuel Neuer (Goalkeeper) 28 years old, 51 international caps
Mats Hummels (Defender) 25 years old, 35 international caps, four goals
Mesut Ozil (Midfielder) 25 years old, 61 international caps, 18 goals
Mario Gotze (Midfielder) 22 years old, 38 international caps, 10 goals
Toni Kroos (Midfielder) 24 years old, 50 international caps, seven goals
Andre Schurrle (Forward) 23 years old, 38 international caps, 16 goals
Thomas Muller (Forward) 24 years old, 55 international caps, 22 goals
Argentina manager Alejandro Sabella said his team would need to play "the perfect match" to beat Germany.
"They have a system of play that is very well developed," he said.
"We will give our all, as we always have. We'll give our best through humility, sacrifice, hard work, being down to earth and giving before receiving. We will give our all so that Argentina can be champions again."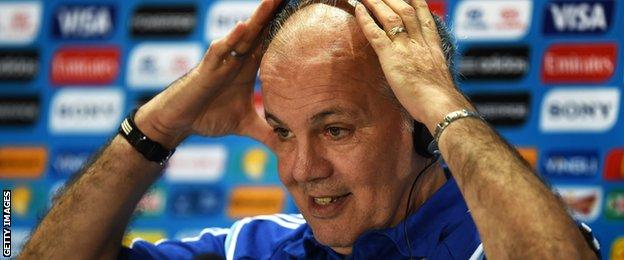 Sabella, 59, had a three-year playing spell in England with Sheffield United and Leeds United from 1978 and he admitted it was "unthinkable" then that he would have ended up coaching his country in a World Cup final.
He added: "Many players move on to be part of a coaching set-up once they stop playing but I never thought about that.
"I thought I was going to be balding, for starters, as age went on. I've never been someone who thinks much about things in the long-term. We're talking about 35 years ago. It was unthinkable this might happen."
For the best of BBC Sport's in-depth content and analysis, go to our features and video page.