World Cup 2014: Brazil FA decide my future - Luiz Felipe Scolari
Last updated on .From the section 2014 Fifa World Cup
Luiz Felipe Scolari says he will leave the decision as to whether he continues as Brazil manager to the president of the country's football association.
Scolari's contract expires with the end of Brazil's campaign but it has been suggested he could stay on.
"It is up to the president to decide," said Scolari.
"We agreed before this tournament that we would give our positions at the end of the World Cup," the 65-year-old added.
"I will finish my report and the president and the board will analyse it and do as they wish."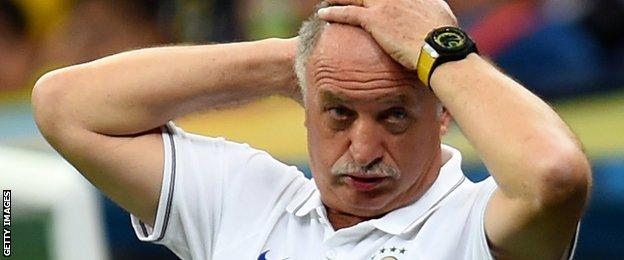 Scolari led Brazil to World Cup victory in 2002 but his name was greeted with jeers as the Brazil team were announced to the crowd before their match against Netherlands in Brasilia.
As the game progressed and Netherlands' grasp on the game tightened, fans continued to express their anger at the manager, who was booed every time he appeared on the stadium's big screen.
Prior to Tuesday's semi-final against Germany, Brazil had not lost a competitive fixture at home for 39 years, but deprived of their star forward Neymar through injury, they were soundly beaten.
Scolari described that game as the "worst day" of his life, as his team's hopes of winning what would have been a record sixth World Cup title on home soil were extinguished.
Saturday's defeat by Netherlands means it is the first time since 1940 that Brazil have lost consecutive matches at home.
Luiz Felipe Scolari at Brazil 2014
Wins - 3
Draws - 2 (Won v Chile on penalties)
Losses - 2