Cardiff City: Adam Le Fondre confident of Premier League return
Last updated on .From the section Football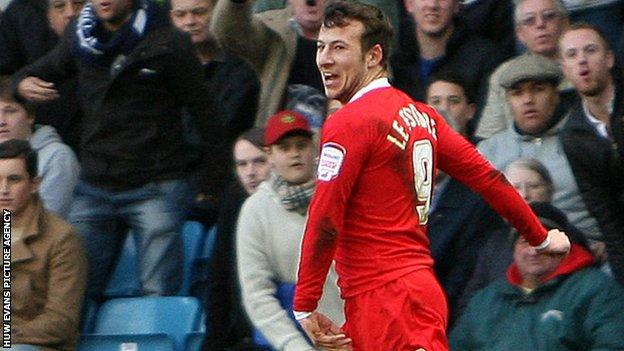 Adam La Fondre is convinced Cardiff City can win promotion back to the Premier League at the first attempt and that he can score the goals to help them achieve their ambition.
The Bluebirds have also signed strikers Federico Macheda from Manchester United and Javi Guerra from Real Valladolid.
"With the front line we've assembled we've got a really good shout," said Le Fondre.
"I'm not going to join and just sit in the Championship, I don't want to do that.
"I want to strive to be better and the way we're looking we've got a good chance to get up."
Le Fondre scored 15 league goals for the Royals in the Championship during the 2013-14 season.
The previous season he netted 12 times in 34 top-flight appearances as Reading were relegated from the Premier League.
And he is confident that he will maintain his scoring form with the Bluebirds.
"Anyone who's watched me before knows I'm bitterly disappointed when I don't score," he said.
"I'm always confident in my ability to score goals - I think you could put me anywhere and I'd score goals.
"I think I'm that sort of person I've got that self-belief in my ability."
Le Fondre admitted the fact that Ole Gunnar Solskjaer is manager at Cardiff was also a factor in his decision to make the move to Wales.
"It's been stated he was my idol [when I was] a kid," said Le Fondre.
"Hopefully some of his ruthlessness rubs off on me - I pride myself on my finishing and I'm sure the gaffer, when he played, did the same.
"I think his ratio was ridiculous when he played."
Like his Solskjaer, Le Fondre has a reputation for being a "super-sub" with the ability to score goals after coming off the bench.
He struck eight times during substitute appearances in the 2012-13 - a record for the Premier League.
Solskjaer once scored four times in one substitute appearance for Manchester United against Nottingham Forest and most famously scored the winning goal after coming off the bench in the 1999 Champions League final.
Le Fondre expects to have to fight for his place in the Cardiff team, and claims he would not have it any other way.
"I expect there to be competition at a team that's pushing for promotion," he said.
"I don't expect it to be a cakewalk, I expect myself to work hard to win the right to play.
"Whatever target I set myself I know I'll meet them - as long as I play the minutes I expect to play, I'll score goals for us."