Scotland confirm rematch with England at Celtic Park
Last updated on .From the section Football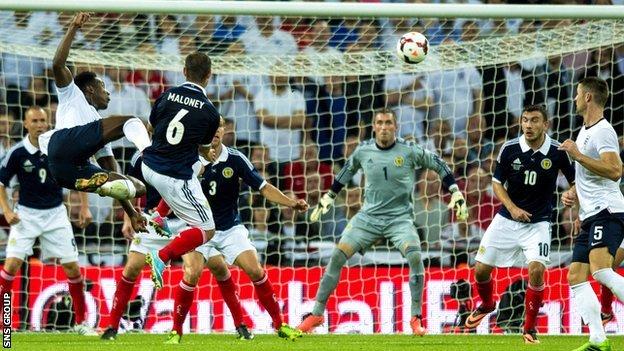 Scotland will host England in a friendly at Celtic Park on 18 November.
The match comes four days after the Euro 2016 qualifier against the Republic of Ireland at the same venue.
England hosted and beat Scotland 3-2 in August 2013 as part of the Football Association's 150th anniversary celebrations.
The contract for last year's game included a rematch option and there are no plans for the oldest international fixture to return on an annual basis.
There were around 20,000 Scottish fans in a crowd of 80,435 at Wembley for what was the first meeting of the two sides since 1999.
"We have enjoyed an encouraging build-up to our Euro 2016 qualifying campaign and I am sure the players, the coaching staff and the fans will love the chance to go head-to-head with our oldest rivals again," said Scotland manager Gordon Strachan.
"Like our supporters, I was really heartened by the performance against England at Wembley and believe we had a great opportunity to record a win we could all have talked about for years.
"Now, we have that chance again and I am sure the players and the fans will be even more determined to take it.
"The atmosphere at Wembley was incredible and I am sure with Celtic Park filled with Scotland supporters, it is a game the whole country will look forward to."
The first of 111 meetings between the rivals was a goalless draw played in 1872 at Hamilton Crescent, Glasgow, with England enjoying 46 wins to Scotland's 41.
With Hampden Park in need of refitting after hosting the athletics for the Commonwealth Games, Scotland's first home game in the Euro 2016 campaign, against Georgia, will be played at Ibrox on 11 October.
Hampden will be back in use for the national side by the time Gibraltar visit next March.
Scotland open against Germany in Dortmund on 7 September and Strachan is full of admiration for the World Cup winners.
"Having watched the World Cup in Brazil as an analyst, I have seen first-hand how good a side Germany really are," he said. "I am sure the players and fans will all be looking forward to the challenge of a team who deserve their crown as the best team in the world."