World Cup 2014: England cannot copy Germany - Gary Neville
Last updated on .From the section 2014 Fifa World Cup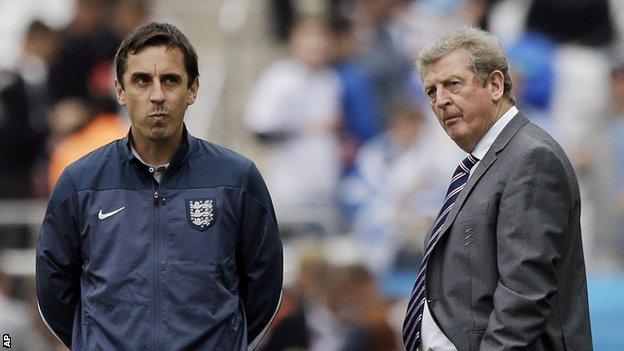 England coach Gary Neville says it is impossible for the team to replicate Germany's model to win the World Cup.
England were eliminated from the World Cup after two Group D games.
"People who write - 'England should follow the German route' are oblivious to the obstacle or believe in magic wands!" tweeted Neville.
A response to Neville stated that Germany did not use "magic wands" to which the former Manchester United right-back answered: "No but a Holistic approach! Won't happen here."
Neville added: "Course it would be great to follow that route but you may as well say 'England needs weather like Spain'."
Six of the German squad that won the 2014 World Cup were part of the side that beat England in the European Under-21 Championship in June 2009.
Only one England player from that side was in Roy Hodgson's squad in Brazil.
England lost their opening two group games against Italy and Uruguay at the tournament before coming back home after a goalless draw with Costa Rica in their final game.
"We are going to have to find our way of doing it because the system we have doesn't allow us to adopt the German route in its entirety," said Neville.
"I'm confident the mountain is starting to move. But it's a slow shift and results will take time but I see things happening behind the scenes."
The end of Germany's 10-year plan
After a dismal Euro 2004, coach Rudi Voller resigns and Jurgen Klinsmann takes over.
Germany host the 2006 World Cup and surpass expectations, losing to Italy in the semi-finals and finishing third.
Lose the Euro 2008 final to Spain after Fernando Torres scores the only goal.
Beaten by Spain again at the semi-final stage of the 2010 World Cup, before finishing third.
Beaten by Italy in the semi-finals of Euro 2012.
Win the 2014 Fifa World Cup in Brazil, beating Argentina 1-0 in the final.
For the best of BBC Sport's in-depth content and analysis, go to our features and video page.