Farewell to Botswana legend Diphetogo 'Dipsy' Selolwane
By Mtokozisi Dube
BBC Sport, Gaborone
Last updated on .From the section Football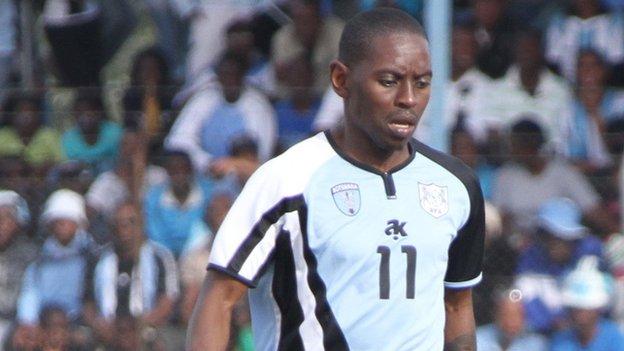 As Botswana's retired legendary footballer Diphetogo 'Dipsy' Selolwane walked onto the National Stadium pitch in Gaborone for his testimonial match on Saturday, the one memory that flooded many minds was that deft turn and strike against South Africa in 1999 at the same venue.
Selolwane, then 21, made a nimble turn before scoring a wonder goal that marked the start of a glittering career.
Exactly a year before scoring that famous goal, Dipsy had a conversation with a then-teenage Aaron Mokoena, who went on to captain South Africa, on his move to Ajax Amsterdam.
The two met before an Under-23 match between their countries after which Mokoena would begin his professional career with the Dutch giants.
And what really stunned the Gaborone-born ace was that the 18-year-old Mokoena would forfeit his studies in order to move to the Netherlands. The idea that someone could forego school examinations to pursue a football career in a far flung nation was quite strange to him.
Understandably so, because football in Botswana was still more of a pastime than a job.
"It was inspiring to hear a youngster almost my age talking of turning professional," Selolwane told BBC Sport.
Selolwane's career began in Botswana's capital Gaborone where he turned out for Gaborone United as a teenager.
From there he journeyed to St Louis in the United States in 2000, where he studied at the Harris-Stowe University. While playing college football, he made the third round of the MLS Super Draft and was picked by the Chicago Fire.
But he yearned to chase glory in Europe and in 2001, Selolwane interrupted his studies to join Danish club Vejle BK. However, he was back in Chicago when Vejle were relegated at the end of that season.
The next four years were spent in MLS, at Chicago and then Real Salt Lake, before he left for South Africa to join Santos.
Spells at Jomo Cosmos and Ezenkosi followed by he joined Ajax Cape Town in early 2008 and his career flourished after he was moved into midfield.
It brought him a move in 2010 to league champions Supersport United.
On the international stage, he won 49 caps and scored 16 goals for the Zebras and he helped guide Botswana to their first Africa Cup of Nations appearance in 2012.
It was there he made history by scoring Botswana's first goal in a major international tournament - albeit in a 6-1 defeat by Guinea.
A few months after their maiden Nations Cup appearance, Botswana President Ian Khama bestowed upon Selolwane the Meritorial Award during the country's Independence celebrations.
"That's the best time and best award ever, to be honoured by your president was huge for me," he said.
Now that Selolwane has hung up his boots, he says it would give him the most fulfilment to discover and mentor a youngster.
And former Botswana national team coach Stanley Tshosane has faith his former captain is the perfect candidate to guide his country's next generation.
"It would sign off everything in his long career. I guess it was always written in the stars that it would happen," Tshosane said.