Scotland: Mark McGhee 'excited' to face world champions Germany
Last updated on .From the section Football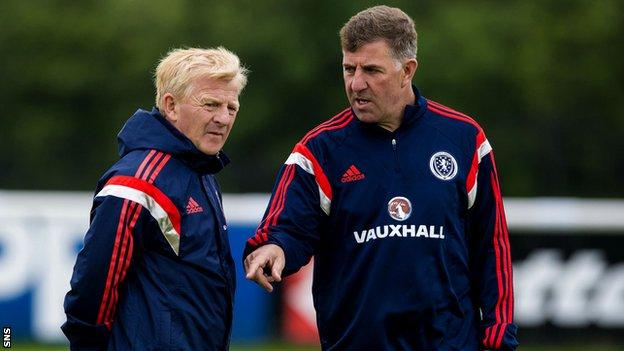 Assistant manager Mark McGhee is delighted that Scotland have the chance to test themselves against newly-crowned world champions Germany.
And McGhee says Scotland will relish the match in Dortmund on 7 September.
"It's fantastic, you want to play against these teams. It's great and we're all excited about it," he said.
"We knew when the draw was made that was going to be the most difficult game for us, but there will be a sort of party atmosphere and to be there and experience that will be great for the supporters.
"We're going there to make life as difficult as we can for Germany, regardless of the fact they're world champions, and we hope to come up with a plan and a strategy that will give us a chance of getting something."
McGhee experienced a season in Germany during his playing days, switching from Aberdeen to Hamburg in 1984.
He made his debut in the Westfalen Stadium, which he believes will prove a great venue to open the qualifying campaign.
"In the section, given the seedings, there was always going to be teams that are better than us, and it's as well being the world champions than the runners-up," said the 57-year-old.
"It's as good a German side as I've seen in recent years. There's a fantastic shape about them, there's no weaknesses in it, and they have a fantastic bench.
"They have a squad of players who thoroughly deserved to win the World Cup, and it's a team who will go on to be right up there in the next few competitions.

"We are not naive. We know how difficult it's going to be, how well we are going to have to play, how disciplined we'll have to be, and concentrated to get anything at all, and worse than that, not to get hammered, because they are a fantastic team."
McGhee also welcomed the news that Scotland will take on England at Celtic Park in a friendly on 18 November.
The two nations met at Wembley last year, with the Gordon Strachan's team producing a fine performance despite going down 3-2.
"It whetted everyone's appetite for the fixture again," McGhee said. "The fixture had become a bit tired, it had run its course as an annual thing but playing England is always a great event.
"It was a good performance that we took a lot from, we kicked on from it. It all added to some of the improvement in the team, it was a good exercise and hopefully the next one will be the same."