Manchester United to play in new Milk Cup U13 grade
Last updated on .From the section Football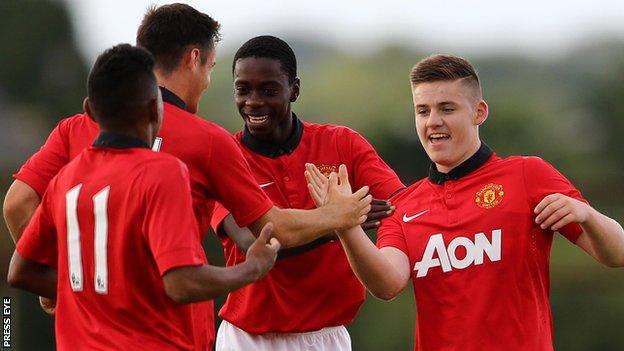 Manchester United will compete in a new age group at this year's Milk Cup which starts later this month.
United will play in the inaugural Under-13 grade at Coleraine Showgrounds ahead of the main tournament.
The competition, also involving Northern Ireland, Partick Thistle and the North Dublin Schools League will start on Friday, 25 July.
It will run on a round robin basis with matches on the following Saturday afternoon and evening.
"It's a new venture and we will see how it works out," says Victor Leonard, chairman of the Dale Farm Milk Cup.
"If there is an appetite for a competition at this level we will look at progressing it in 2015.
"Manchester United are keen to progress younger players at this level so too is Northern Ireland manager Michael O'Neill."
O'Neill has invested a lot of his time in reviewing the youth structures in the international set-up where he ultimately sees future benefit for the country at higher levels.
"We are hoping that the high standard of players in this new event will attract the support of the local public, particularly as it is being centred at Coleraine Showgrounds," added Leonard.
A special opening ceremony will take place at Coleraine Showgrounds on the Friday for the four teams involved.
The main competition will begin with the traditional parade of competing teams through Coleraine on Sunday, 27 July, concluding with finals night at Ballymena Showgrounds on Friday, 1 August.