Casey Stoney: Why being a gay mum can help my England career
Last updated on .From the section Women's Football

England and Arsenal Ladies defender Casey Stoney is writing a regular column for the BBC Sport website this season.
One of the reasons I came out about my sexuality last February was because my partner and I were planning on having a family and I am so excited to say we are expecting twins later this year.
We have been planning this for a while and I just wanted people to know who I really was and what I was before we took the next step of having a family together. Now it is close to becoming a reality, it will be the most amazing moment of my life.
Until last season my partner, Megan Harris, was a footballer and we played together at Lincoln Ladies. But her desire to be a mum far outweighed her ambitions in football so she is the one who is pregnant.
She is still involved in the game but just not playing, so it wasn't that hard for us to decide who the carrier was going to be.
I am in a very fortunate position where I can become a mum in women's football without it impacting on my career negatively. That hasn't always been the case with other mothers but things are changing and the next few years will give me an insight into the support they receive.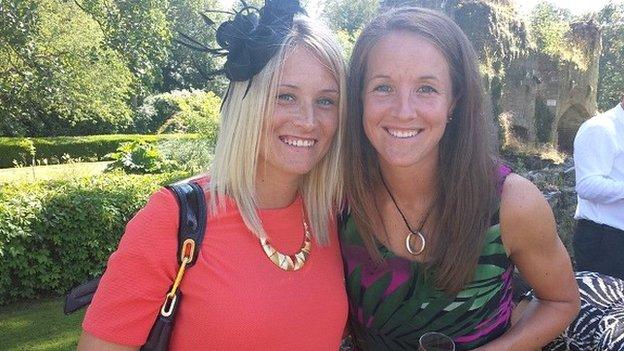 We already have one advantage because Megan is due during the Women's Super League off-season so at least I will get a few months of sleepless nights and nappy changing without worrying about training every day.
I'm not going to lie, learning we were going to have twins came as a bit of a shock. When we had the first scan, the nurse told us Megan was pregnant and then 20 seconds later said: "With twins." It was the scariest and most amazing moment of my life.
We don't know their sex yet but I'm not sure they will have any other choice than to follow football. As Megan is a Manchester United fan, I've already been told they will be wearing club baby grows so I've lost the war on that one!
We are pretty active so they will be exposed to sports and if they like that, great. If not, as long as they are happy, they can do what they like.
Being gay parents may not be that common in football but, in my view, as long as children have the love and support they need, then it shouldn't matter whether they are brought up by two mums, two dads or a mum and a dad. What does a normal family look like now anyway? There isn't one and I would hope there would be no negativity around our situation.
We are very fortunate to have great families to support us and I have already spoken to the Football Association, England manager Mark Sampson and my club Arsenal and they have given me their full backing. So hopefully everything should be really positive from a football point of view.
Aside from being gay in football, which I talked about when I came out, there is no getting away from the fact that being a mother in women's football is also a taboo.
I will become the only mother in the current England squad and I know other players in the set-up who have been put off having children because of the impact it might have on their football careers.
In such a competitive environment there is always the fear that time spent away from the game will mean you struggle to win your place back. I think that is sad because every woman has the right to have a family and they shouldn't need to put it off until the end of their careers.
There has also been a serious lack of support for mothers. When we play against the likes of the United States, Sweden or Scotland the players take their children with them and they have the support of their national associations to do so. That way, they are not away from their children for long periods during major tournaments.
England players will now get better maternity conditions from the new central contracts and, as part of the Professional Footballers' Association management committee, I will raise any issues that might crop up.
Stoney and the PFA
In November 2013, Stoney became the first women to be appointed to the PFA management committee. Speaking at the time, she said: "This enables us to have a voice for the women's game and spread awareness of the great things the PFA do and can offer."
There is plenty of evidence to suggest that women come back even stronger after pregnancy and my belief is that if you are happy off the pitch then you will produce strong performances on it. England midfielder Katie Chapman has three kids and each time she came back from maternity leave she still played fantastically.
Being a mother changes you as a person and, even though everyone has told me to get plenty of sleep in before the twins arrive, I would hope that the experience can mean I can add even more to the teams I play for.
I'm 32 but I've got no plans to retire and I hope motherhood will have a positive impact on my career. We are close to qualifying for the World Cup in Canada next year and I want to try to win back my England place by continuing to play well for Arsenal.
Having a family is just another part of the puzzle to complete my life. I've been very fortunate to be England captain and now play professionally.
As well as playing football, I go around to schools and talk about my journey and I love the fact that girls can now tell their parents or teachers that they want to be professional players and it is a realistic aim.
If I can be an example to them or show them there are no barriers, including being a gay mum in football, then fantastic.
It's quite amusing because I never set out to be a trailblazer or anything. When I was younger I just wanted to blend into the background and keep myself on the straight and narrow.
Now I seem to be taking steps to stand out, which is a bit foreign to me. But I wouldn't have done things like this if I didn't feel comfortable with a fantastic partner and family around me.
I'm proud of everything I've achieved and I'm not ashamed of who I am. Hopefully, when our two get older they will look at their mum and be proud too.
Casey Stoney was talking to BBC Sport's Alistair Magowan. The full interview will run on 16 July after the Liverpool Ladies v Everton Ladies commentary on BBC 5 Live Sports Extra, kick off 18:30 BST.