Carlisle United: Graham Kavanagh 'sad' to release Davie Irons
Last updated on .From the section Football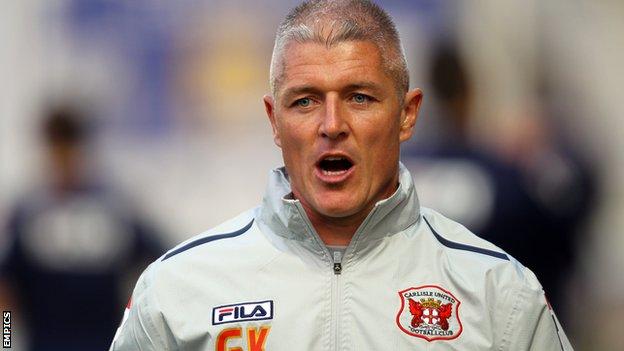 Carlisle United boss Graham Kavanagh says releasing assistant coach Davie Irons was "difficult" but part of an overall reshuffle at Brunton Park.
The Cumbrians released 11 players at the end of last season following relegation to League Two, and have since signed seven new players.
Ex-academy boss Irons became Kavanagh's assistant after he succeeded Greg Abbott in September 2013.
Kavanagh told BBC Radio Cumbria: "I had to make a change for numerous reasons."
He continued: "It was nothing that Davie had done wrong, I just wanted to take a different approach.
"I explained that to him today and even though it was difficult he took it with incredible grace and honour.
"It was difficult for him and for me. I felt incredible sadness.
"I've made changes across the board on the playing side, tough decisions need to be made and I have made the toughest one here."
Following Irons' exit, Tony Caig will continue as first-team coach and goalkeeping specialist alongside Kavanagh, with no immediate replacement confirmed.
"I'm going to see what happens over the next couple of weeks. I will have an eye on trying to bring somebody in but if it doesn't happen I'm not overly concerned," he added.
"I've got a bigger support staff now around the football club, but as the season goes on there becomes more of a load.
"That's when you need to be in two places at once which isn't possible, and that's when you lean on your right-hand man."