From QPR to Barcelona: When Terry Venables became El Tel
Last updated on .From the section Football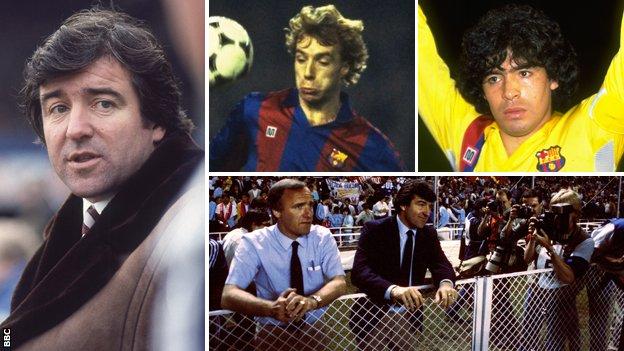 As Barcelona's board convened at the Nou Camp earlier this summer, flicking through CVs and debating who should replace Gerardo Martino as manager, it is highly unlikely that anybody suggested "that guy from QPR" as a possible contender.
Indeed, as admirable as Harry Redknapp's achievement of guiding the Hoops back to the Premier League was last season, it is hard to imagine any English coach swapping Shepherd's Bush for the beaches of Sant Sebastia again.
But 30 years ago, in the summer of 1984, Terry Venables - or El Tel as he was about to become - took that fateful phone call. Would the QPR boss be interested in a move to Barca?
"That call came right out of the blue," Venables tells BBC Sport.
"I just couldn't believe it. Well you wouldn't, would you? Going from QPR to Barcelona was amazing and it will never happen again. The stadium, the set-up - it's all a bit different from Loftus Road.
"I pinch myself now really. I can't believe I ever did it. It was an amazing leap."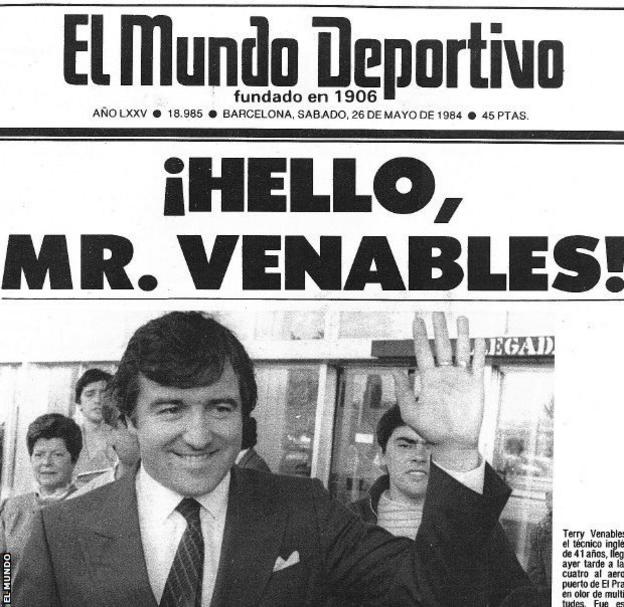 Venables had just guided QPR to fifth in the First Division but had no hesitation in heading to Spain and replacing Cesar Luis Menotti, a World Cup-winning coach with Argentina in 1978.
The 41-year-old from Dagenham was Barcelona's seventh English coach, but inherited a side that had not won La Liga since 1974 - a drought hardly imaginable for today's superstars.
"When I first went there expectations were low," recalls Venables.
"People would stop me in the street and say 'as long as you beat Real Madrid that's a good season'. I'd say that we can win the league and they would laugh in my face.
"There was a very negative outlook in Barcelona. They preferred to cry about losing rather than smile about winning. They thought everyone was against them.
"I'll never forget that the fixtures came out and we were playing Real Madrid on the opening day at the Bernabeu. Real had Emilio Butragueno up front, all the real top players.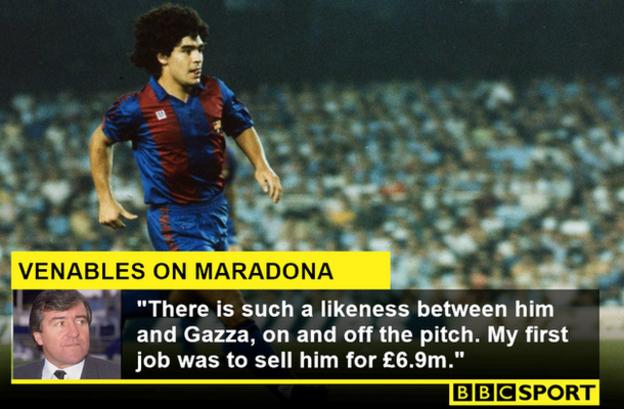 "It was ominous but in a way it was the best thing that happened to us. We won the game and we could then kick on. Everyone was delirious when we won 3-0 away from home. I had arrived."
At Rangers, Venables' main men were Clive Allen, John Gregory and Simon Stainrod, with the most exotic member of the squad being Swansea-born Jeremy Charles.
At the Nou Camp, Venables was in charge of West German artist Bernd Schuster, four members of the Spain squad who had reached that summer's Euro 1984 final and the most expensive player in the world, Argentina legend Diego Maradona.
"Well as you can imagine, I was very excited to work with Diego," says Venables.
"But on my first day I was told by the president that I had to sell him. He was broke. The best player in the world, out of money.
"The season before, he had been injured and he had 16 friends from Argentina living with him, to keep him company in the evening and make sure he wasn't bored. He would pay for everything, sign cheques for their meals, you name it.
"There is such a likeness between him and Paul Gascoigne, who I would work with later for Tottenham and England. Gazza and Maradona, they were both so similar in their outlook. The other players loved them.
"They couldn't say enough good things about them. They were both such givers and I was very disappointed that I couldn't work with Maradona more."
Maradona went to Italian side Napoli for another world record fee - £6.9m - leaving Venables with a key hole to be filled in his side.
The board wanted Atletico Madrid's overhead kick specialist, Mexican sensation Hugo Sanchez, while Venables wanted Tottenham's Scotland forward Steve Archibald.
Or, as he would be christened by the Catalan press, 'Steve Who?'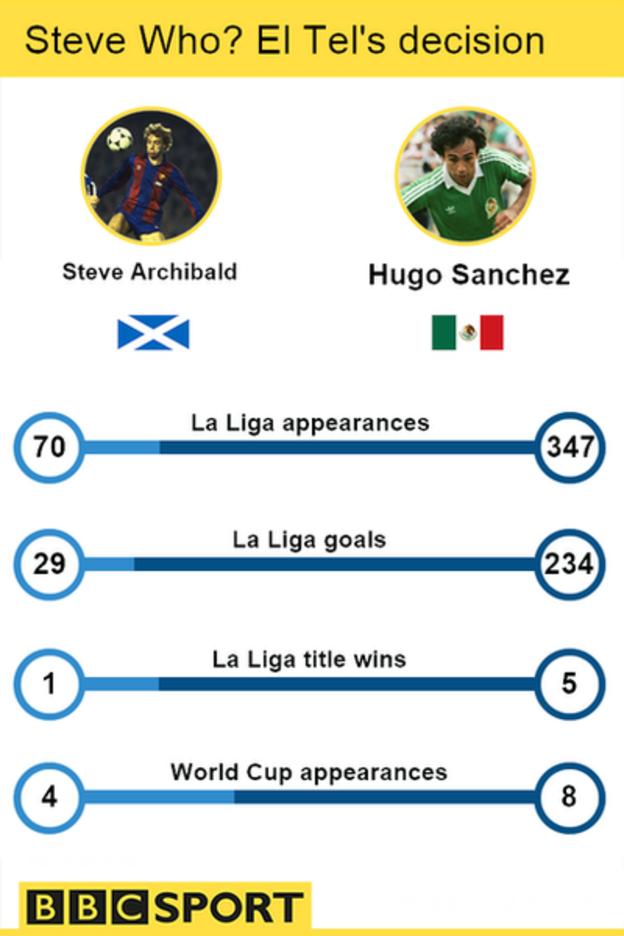 "Archibald was a good finisher and an unselfish player - he did me proud," says Venables.
"There was some opposition to me signing him - nobody in Spain knew who he was - but I knew he would be right for me straight away.
"I knew I needed a good start as if I didn't then it could be all over before it began. In those days some clubs were going through four or five managers a year."
Archibald was an unlikely hit for Barca, scoring 15 times in La Liga as El Tel's boys upset the odds to win that elusive first title in 11 years, losing only twice in the league and finishing 10 points clear of Atletico.
Sanchez would go on to join Real Madrid the following summer and win five league titles in a row.
But with Archibald, Venables had ended Barcelona's drought and also set the wheels in motion for a change in approach.
He promoted players from the youth set-up and introduced a high-tempo, pressing style that lives on at the Nou Camp today.
"Venables' main legacy was the importance of giving 100% and treating every match like it's your last," says Toni Frieros, reporter for Barcelona's Sport newspaper.
"He changed the mentality of football at Barcelona. It was important to change the bad luck the club had suffered in the years before.
"For us it was a surprise when he came because nobody knew anything about him. But he surprised everyone with his behaviour because he was a very easy-going person who gave a lot of interviews to journalists and was very relaxed.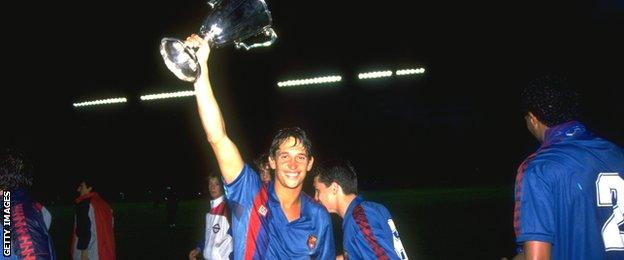 "He even appeared on a popular Spanish TV programme singing My Way. That helped to change the way Spanish fans see the image of a coach.
"He also came so close to winning the European Cup in 1986, which would have made him a legend here. Johan Cruyff will always be known as the first coach to win the European Cup for Barca, but it could easily have been Terry."
That European Cup final defeat - on penalties to Steaua Bucharest in Seville - was the beginning of the end for El Tel in Barcelona.
After signing Gary Lineker and Mark Hughes, he left the club following a poor start to the 1987-88 season, rejecting overtures from Roma and Juventus to head to Tottenham.
Six years, an FA Cup win and a reunion with Lineker later, Venables left the club and then took England to the semi-finals of Euro 96, before winding up his managerial days with Australia, Crystal Palace, Middlesbrough and Leeds.
Barcelona have flourished since his departure, winning 12 league titles and four European Cups.
New coach Luis Enrique will be expected to add to that haul in the coming season. He has Lionel Messi, not Diego Maradona; Luis Suarez, not Steve Archibald.
But without El Tel and that phone call to Loftus Road, the club could still be in the doldrums.
Additional reporting from Andy West in Barcelona.