Oxford United chief targets stadium ownership
Last updated on .From the section Football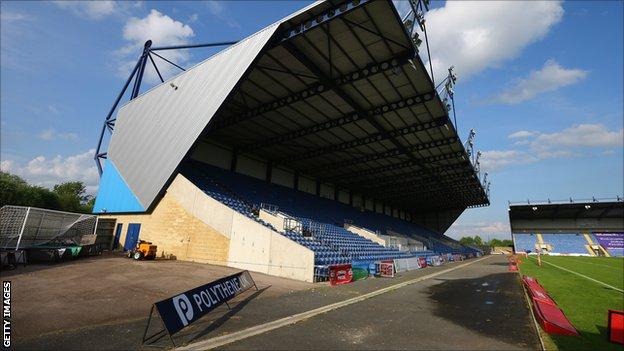 Oxford United chief executive Mark Ashton says it is vital for the club to be playing in their own stadium.
With the club securing investment from new chairman Darryl Eales, the subject of stadium ownership is a key issue for Oxford's new CEO.
"I want the revenue in the football club and the football club to own its own home," Ashton told BBC Oxford.
United have played at the stadium since it was opened in 2001 by then-U's owner Firoz Kassam, who sold the club but kept the ground in 2006.
Talk of a joint-bid to buy the stadium with rugby union side London Welsh was mooted in July 2013, with the ground also listed as a "community asset".
However, building a new ground on a site at Water Eaton was proposed earlier this month, and Ashton says stadium ownership is vital to the identity of the club.
"The stadium, wherever we are, has to have an identity and that identity has to be Oxford United," added Ashton.
"The fans have to know it is their home and I think that is really important."
The club have added Mike O'Leary and Frank Waterhouse to the new board as non-executive directors.
Waterhouse replaces Paul Wright as chief financial officer and Ashton says the new board "will give everything to help build what is a special football club".
The former West Brom keeper also also urged patience from supporters, but promised progression over the next five years.
"It will take time," he said, "Believe, get behind the club and team. It's a club with a great tradition, a good history and full of potential."
Asked where he saw the club in five years' time, Ashton replied: "The answer is progression.
"I built my career on building clubs. If you keep moving forward logic dictates you will be promoted."