The New Saints 0-2 Slovan Bratislava (0-3 agg)
Last updated on .From the section Football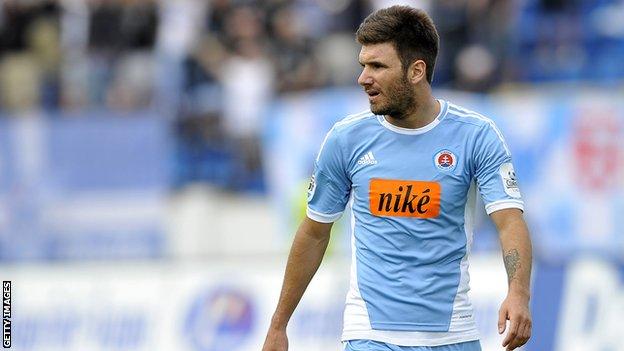 The New Saints bowed out of Europe after losing 2-0 to Slovan Bratislava in the home leg of their Champions League second qualifying round.
Already trailing the Slovakians 1-0 going into Tuesday night's game at Rhyl, Saints gave a good account of themselves in a competitive first half.
But Marko Milinkovic scored twice in the final 16 minutes to end TNS hopes.
The Serb's first goal went in via a deflection before Milinkovic struck a brilliant late free-kick to seal it.
The New Saints boss Craig Harrison told BBC Radio Shropshire:
"You're talking about Champions League and champions of a country bigger than Wales.
"First half we were definitely on top and at this level you need to score goals when you are on top. It would have changed things if we had scored.
"I hate being beaten no matter what but we're talking about the biggest club competition in the world, you're talking about the best teams in the world, so you've got to be positive.
"I think it shows how far we've come, that we're genuinely gutted and disappointed that we didn't go through because we thought we'd given ourselves the opportunity in the first leg to go through."