Wrexham boss Kevin Wilkin wants talks with keeper Joslain Mayebi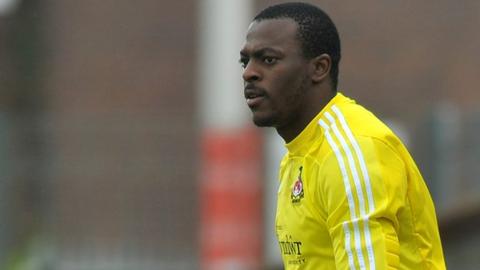 Wrexham manager Kevin Wilkin has been left frustrated in his attempts to make contact with goalkeeper Joslain Mayebi.
The out of contract Cameroonian has not returned to the Conference Premier club for pre-season training and it is believed he is currently in France.
Wilkin said the club had been in contact with the 27-year-old's agent but were still awaiting a response from the player.
"Joslain dragging his heels doesn't help anybody," Wilkin said.
Mayebi, a member of the Cameroon squad at the 2008 Olympic Games in Beijing, joined Wrexham in January 2011 after impressing then manager Dean Saunders during a trial with the club.
There has been very little contact between the club and Mayebi since the end of last season.
Wilkin said Wrexham coach Michael Oakes had spoken with the player's agent during the past week and were awaiting a response.
"Has he got a future at Wrexham? That's up to Joslain to decide," Wilkin added.
"We can't meet his financial expectations of where they were last year. Whether they're what he wants, possibly not.
"He really should have got himself back in around the area a whole lot sooner than he has - it's his future.
"It's not for me to go chasing and follow him, he needs to come in. My door is always open.
"Maybe he's got other things on his plate and it would be unfair of me to comment any further than that if there are other things that he needs to sort out.
"But I would like to have a face to face conversation with Joslain and sort it out one way or another."
While Mayebi's future at Wrexham remains unclear, Andy Coughlin has signed a new contract and Wales Under-21 keeper Connor Roberts has been training with the club.
Roberts, who was called into the full Wales squad for June's friendly against the Netherlands, is without a club after leaving Cheltenham Town at the end of last season.
Wrexham-born Roberts, released by Everton in 2012, featured in the pre-season friendly wins over Swansea Under-21s and Colwyn Bay.
"We'll have another look at him on Saturday [against Fylde] and off the back of that we'll be looking to make a decision I would say," Wilkin said.