Luke Graham: Alfreton Town defender wants fresh start
Last updated on .From the section Football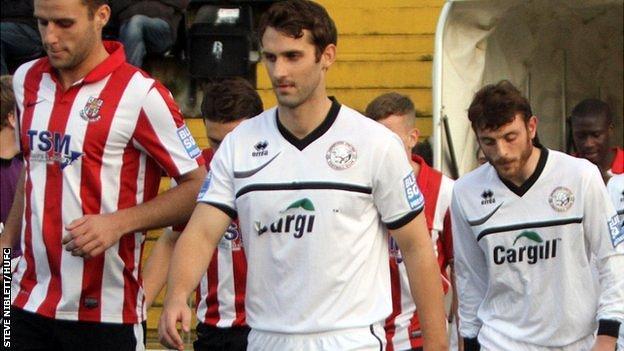 Luke Graham says he signed for Alfreton Town because of the financial stability he will get from combining a career with playing part-time football.
The 28-year-old defender is still owed money by crisis club Hereford United and turned down offers to continue playing full-time to join the Reds.
But Graham has his mind on a career in teaching after gaining a degree.
"Hopefully I go on to be a qualified PE teacher, have a stable job, and play part time as long as I can," he said.
Graham took his degree in sports journalism but wants to get a job in teaching and hopes to be qualified by the end of his two-year Alfreton deal.
"It's worked out better than I expected," he said. "I did enjoy my journalism, but it has now got me a job, starting at a college and a football academy, and I'll be lecturing as well."
The former Forest Green Rovers and York City defender wants a fresh start after turning down a new contract at Hereford.
Graham was captain at Edgar Street, where the Bulls avoided relegation on the final day of the campaign but were later expelled from the Conference anyway after failing to pay their bills.
Many staff at the club - including Graham - are still owed money.
"I've written it off in my head," he said. "I've just thought I'm going to start again, and of course, any money I get back now is a bonus.
"Full-time football, especially in the Conference, is in a very bad way, I think there's a lot of clubs struggling, and I've had financial problems before at other clubs.
"I really want to forget about that chapter of my life and move on with Alfreton now."
But despite working at a local college and football academy throughout the week, Graham says he can still perform on the pitch.
He added: "I won't be taking my eye off the ball. I'm at the peak of my career."