Nations Cup wins for Botswana, Uganda and Sierra Leone
Last updated on .From the section Football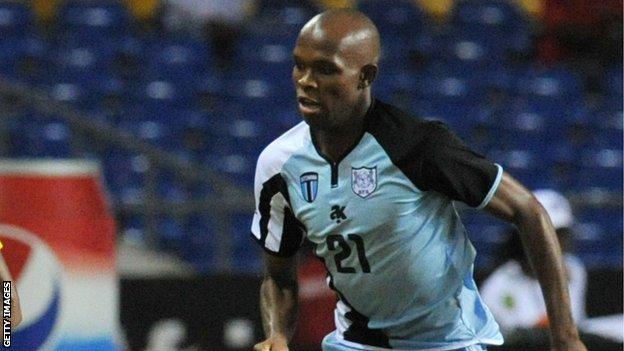 Qualifying for the 2015 Africa Cup of Nations in Morocco resumed this weekend, with Botswana, Uganda and Sierra Leone all taking a huge step towards the group phase of qualifiers.
Botswana defeated Guinea-Bissau 2-0 in their home leg in Gaborone.
Lemponye Tshireletso (pictured) scored both goals for The Zebras during a seven minute spell in the first half.
The second half was tighter, as Guinea-Bissau fought hard to try and get back in the match.
But Botswana withstood the pressure and held on for the victory. Their coach Peter Butler told BBC Sport his players had done all he had asked of them.
"Delighted, I was absolutely delighted with them, they were fantastic, they did their country proud.
"We would have liked more goals but the most important thing is that we created chances."
Butler said his players could afford to be full of optimism heading into the second leg in a fortnight's time.
"We'll go there with belief, we'll go there with a really good football team. We're improving all the time, we're getting better and the most important thing is we didn't concede."
Despite the defeat, the Guinea-Bissau coach Paulo Torres insisted his players could still spring a surprise in the return leg.
"This game is like half time, we will have our chance when we play at home.
"Our goal is to go to the group stages. We were disadvantaged today. Six of our players remained behind because they were denied entry visas. We will have them in Guinea-Bissau, and with our home fans we will beat Botswana."
Botswana played this fixture with the threat of a Fifa suspension hanging over them. Football's world governing body has threatened to ban Botswana because of tournaments being held in the country that Fifa believes are not under control of the Botswana football association.
They have been given until 22 September to comply with Fifa's directives.
In another fixture played on Saturday, Uganda beat Mauritania 2-0 in Kampala.
After a tight and tense first half, where Mauritania contained the hosts, Uganda's Cranes came back after the break with much more purpose.
Brian Majwega broke the deadlock after 49 minutes to give the home team the lead.
Geofrey Massa, who plays his club football with the University of Pretoria in South Africa, added a second for Uganda in the last twenty minutes of the match.
For Mauritania, this is a second chance to progress in the qualifiers. They had lost in the previous round, but were reinstated after Equatorial Guinea were disqualified for fielding an ineligible player in the tie.
Sierra Leone defeated Seychelles 2-0in Freetown in their home leg.
Khalifa Jabbie put Sierra Leone in front after 56 minutes. Umaru Bangura added a second for the Leone Stars 17 minutes from time.
Sierra Leone went into the match off the back off a week which has seen the country's football association and sports ministry suspend a group of 15 for alleged match-fixing.
There are four more fixtures on Sunday.
14 teams in total are battling over two-legged ties to fill the remaining seven places in the group stage.
The second legs will be played on the weekend of August 1-3.
Morocco hosts the Nations Cup finals tournament from 17 January to 8 February 2015.