Man Utd: Louis van Gaal defends reputation at first news conference
Last updated on .From the section Football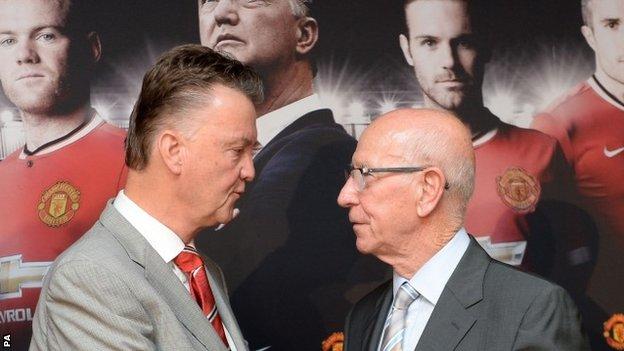 Louis van Gaal described himself as a "democratic" manager in his first news conference as Manchester United boss.
Van Gaal, who was appointed in May but was at the World Cup with the Netherlands until last weekend, arrives at Old Trafford with a reputation as a fearsome individual.
But the 62-year-old countered: "I'm democratic, empathetic to human beings.
"Of course I have a strong personality, but the other characteristics are more important."
Van Gaal's major titles
Domestic leagues:
Ajax (1993-94, 1994-95, 1995-96), Barcelona (1997-98, 1998-99), AZ Alkmaar (2008-09), Bayern Munich (2009-10)
Champions League:
Ajax (1994-95)
Uefa Cup:
Ajax (1991-92)
He said speculation over his management style was "unfair", adding that "the media want to show that part of the personality. When you repeat that, everybody thinks like that".
Van Gaal, who also revealed that midfielder Michael Carrick had been injured in training this week, called United "the biggest club in the world".
He wants to see how the current squad performs over the next three or four weeks before deciding on any additional signings.
Asked if he was targeting a top four finish, he replied: "To me the challenge is always first, and not fourth."
Speaking to the media ahead of United flying out to the United States on Friday for a five-match tour, Van Gaal answered a range of questions:
Personality

- Described himself as "democratic and empathetic" but conceded he had a "strong personality"

Sir Alex Ferguson

- The record-breaking United manager called to congratulate him on his appointment, and he hopes they drink coffee or wine together soon: "Maybe the best wine, I can imagine"

Ander Herrera & Luke Shaw

- New signings were on list of transfer targets: "I gave my approval because I like them."

Nicky Butt, Paul Scholes & Phil Neville

- Wants to find roles for member of 'Class of '92' if possible

Captains

- "All the players are possible candidates. I have to get to know them."
The squad returned for pre-season training on 4 July, with assistant Ryan Giggs taking charge while Van Gaal was helping to guide the Netherlands to the World Cup semi-final.
Van Gaal, who was introduced at Thursday's news conference alongside United legend Sir Bobby Charlton, has been asked to rejuvenate the Old Trafford club following last season's disappointing campaign under David Moyes.
United made the Champions League quarter-finals, but finished seventh in the Premier League in their first campaign following Ferguson's retirement.
"I will do my best and that's what I can give," said Van Gaal, who has won league titles with every club he has managed.
"I have to adapt to this club. It shall not be easy, but I will do my utmost. When you see my career, you can see what I have won and that is what I can say. The future shall show if I can do that again."
He added: "It's a great challenge because of the expectation.
"I worked for Barcelona, in my opinion number one in Spain; I have coached Ajax, number one in the Netherlands; I have coached Bayern Munich, number one in Germany, and now Man United, who are number one in England and I hope I shall fulfil expectations."