Wrexham manager Kevin Wilkin looking at loan options
Last updated on .From the section Wrexham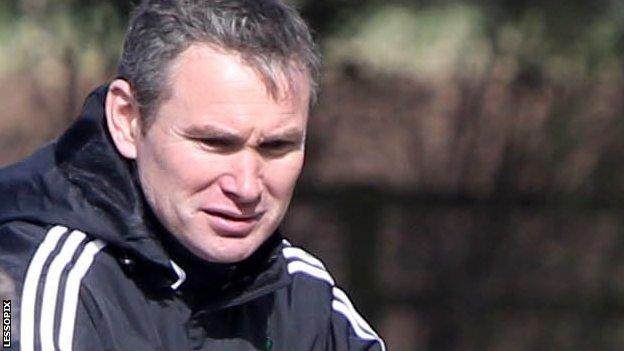 Wrexham manager Kevin Wilkin is looking to bring players in on loan ahead of the new Conference Premier season.
Wilkin is now looking at the loan market and hopeful of arrivals before the new season starts on 9 August.
"We've expressed an interest on taking possibly one or two loanees in at the start of the season," Wilkin said.
"From a financial perspective it can fit in very well with us.
"Sometimes it's towards the later part of pre-season that those opportunities do arise because parent clubs want to keep players and have a good look themselves.
"They'll probably make a decision towards the middle to back end of pre-season as to who they are going to let out and for how long."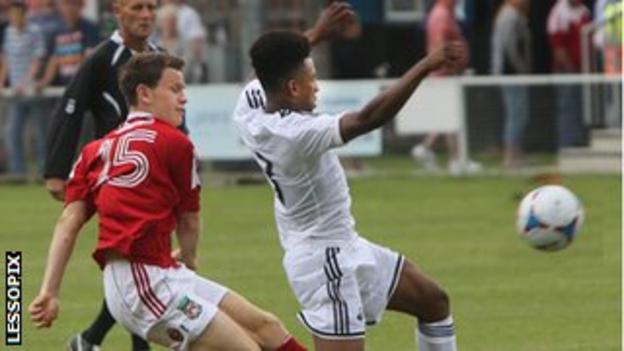 Wilkin has spoken to clubs from higher divisions about the availability of players and is waiting for answers.
Last season former Wrexham striker Bradley Reid returned to the club on loan from Wolves and Wilkin says such arrangements can benefit both parties.
"I've had a fair amount of success in the past with pulling in lads who are looking to go out and establish themselves and gain some experience through playing games," Wilkin added.
"It can be a win-win situation and any that I've taken from Championship clubs and Premiership clubs have worked out really well."
Wilkin is looking to add further permanent signings to his squad
Wrexham have fielded a number of trialists in pre-season wins over Swansea's Under-21 side and Wilkin will have a look at more players in the pre-season match at Fylde on Saturday.
"We are speaking to other players outside of that we are looking to try and get on board," Wilkin said.
"It may be that we might have other trialists with us on Saturday to get a look at them to see where they fit in in what we've got as a squad."