Alex McLeish's Scotland reign was short but full of drama

By Richard Wilson
BBC Scotland
Last updated on .From the section Football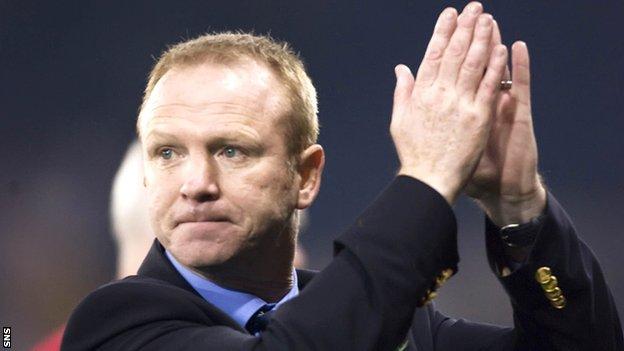 Alex McLeish's reservations about becoming Scotland manager turned out to be inconsequential.
He was uncertain about moving into the international game when the position became vacant, but once he was formally asked then patriotism took over his mood.
Some reasoning took place during the weeks of speculation linking him to the position following Walter Smith's return to Rangers.
McLeish took note of the fact that some contemporaries were managing their countries, even though the common perception was that it was a role for much older, experience managers.
Even so, his doubts remained until he received a phone call offering him the position. At that stage, McLeish was overwhelmed by a sense of obligation to take the job on.
"I'd never envisaged going into international football at that stage of my life, I thought I'd still be involved in club football," said McLeish during BBC Radio Scotland's Managing Scotland series.
McLeish's Scotland record

Scotland 2-1 Georgia

Scotland 3-1 Lithuania

Italy 2-0 Scotland

France 0-1 Scotland

Austria 0-1 Scotland (friendly)

Scotland 3-1 Ukraine

Faroe Islands 0-2 Scotland

Georgia 2-0 Scotland

Scotland 1-0 South Africa (friendly)

Scotland 1-2 Italy
"After leaving Rangers [in 2006], I thought I'd maybe get the chance to go to England.
"Somebody asked me, 'Would you fancy the Scotland job', and I said, 'I don't think so at this stage of my career'.
"Then I got the call and, wow, that was a whole different ball game, it changed everything. Now it was deadly serious and it was just something I could not turn down.
"When I told my kids that Scotland were asking me if I wanted to become the manager, they were really excited, and other people had enthusiasm for it, friends and family. That really made it for me. I thought, 'Wow, I really want this now'."
McLeish took over in January 2007, while Scotland were in the midst of the Euro 2008 qualifying campaign. His predecessor, Smith, had overseen a 1-0 win over France at Hampden, as well as victories over Faroe Islands and Lithuania, but also a defeat away to Ukraine.
McLeish spoke to Smith before taking the role, and his mentor and former manager at Aberdeen, Sir Alex Ferguson. He continued to seek their advice throughout his 11 months in charge, but McLeish - who appointed Andy Watson and Roy Aitken as his backroom staff - soon made his own name in the job.
His opening game was a win over Georgia at Hampden and although Scotland lost 2-0 to Italy in Bari, victories over the Faroe Islands and Lithuania saw Scotland travel to Paris in September 2007 still able to carry slim hopes of challenging for qualification.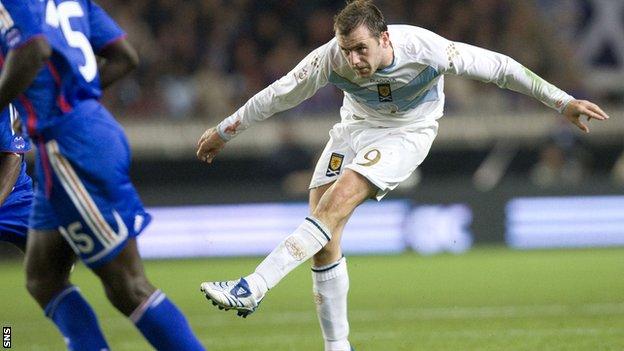 Events at the Parc des Princes were so outstanding - in particular James McFadden's solitary strike, hit with impetuosity from 30 yards out - that they remain fresh in the memories of Scotland fans.
"The Tartan Army just love this one, don't they," McLeish said. "They're doing books about it now. At the time, you think it's another famous victory, but to talk about it years later is quite incredible and just shows you how much it meant to people.
"[McFadden's goal] is just something that special players do. Some of the other guys if they had the ball that distance out wouldn't even think about doing it.
"But he plays with a lot of instinct, James. He has a natural talent. To see [the ball] nestling in the back of the net was a dream. You saw the dugout, the surge, everybody coming right out onto the field. When I saw that played back, that was one of the most memorable things of my career.
"The defence were fantastic, Paul Hartley played a really tactically brilliant role in front of them. When I worked with Paul Hartley as a young winger at Hibs, I could never envisage him as a holding midfielder, and he was absolutely brilliant that night."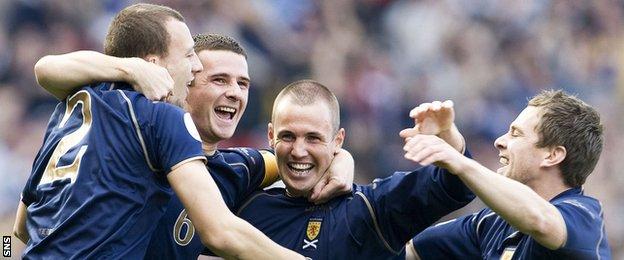 The victory was unexpected, and the exhilaration was sustained. Scotland won their next match, at home to a Ukraine team containing Anatoliy Tymoshchuk, then at Bayern Munich, and Andrei Shevchenko, who scored the visitors' goal in their 3-1 defeat.
Scotland only had two games remaining in the group, and were well placed to qualify. The proximity of success seemed to unnerve them, though, and they lost in Georgia four days after the win over Ukraine.
That left McLeish needing to guide his team to a victory over Italy at Hampden if they were to secure qualification. The two wins over France during the campaign allowed fans to hold realistic hopes of another famous triumph, but the Italians were also alert to the dangers of the tie.
"The first goal was ridiculous, because we lost it very early in the game, the first few minutes," McLeish said. "Italy started well, they must have spoken about that in the team talk.
"A quick throw-in and we were in disarray, we didn't mark up tightly enough. We'd switched off and the game hadn't started really. Luca Toni scored [after just 73 seconds].
"That was it, plan A knackered. We stuck to it, and I said, 'Barry [Ferguson], keep tight on [Andrea] Pirlo, don't let him play, and play off him'. Fergie had a tremendous game for us, we overran Italy, got the equaliser, with Fergie getting the goal.
"From then on, I thought we were going to the finals. [There was] a ball across the face of the goal, the chance that we'd craved, James McFadden came in at the back of the 18-yard box, on his trusty left foot, and I thought it was perfect for him.
"My life flashed before my eyes. I thought, 'We're going to the Euro finals when James notches this', but he just couldn't quite get the contact.
"The second goal [for Italy] was an absolute farce. One of the biggest, [most] horrendous mistakes I've seen from a referee in all my playing and management days. [Alan] Hutton getting barged in the back, it was a foul to Scotland, and he gave a free-kick to Italy.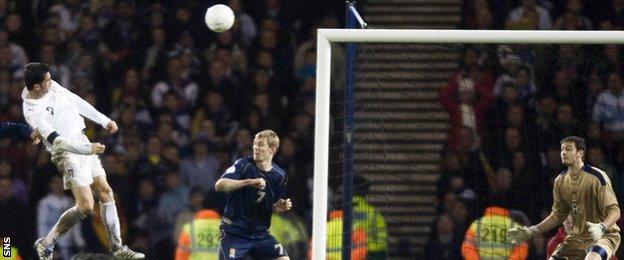 "I don't know what went through that guy's head. Whether or not he switched off and lost concentration, I don't know. Then they put it over and [Christian Panucci] scores the winning goal.
"We should have defended the free-kick better. The worst we should have got was a draw, but it wouldn't have been enough. To lose that game in the manner that we did, and to think of the prize at the end of it, was devastating.
And McLeish revealed: "A female Italian journalist called me the midweek before the game, and said, 'Do you really think that Uefa won't allow Italy to go through'? I said, 'We don't talk like that in Scotland'.
"She said, 'It is a big talking point in Italy, it's in all the papers and on all the chat shows, that if there is a 50-50 decision, it will go Italy's way'.
"I said, 'I don't have that perspective, and I'd hate to think something like that could affect this football match'."
Had Scotland reached for the finals, McLeish would have remained wholly committed to the job. The defeat hurt, but it also revived old doubts, since the next competitive assignment wasn't for another eight months.
McLeish's work had been admired in England, and although interested clubs were told that he would not consider any offers while the campaign was being played, the aftermath provided an opportunity for them.
"Wild horses couldn't have dragged me away from the Scotland job if we'd qualified," McLeish added. "I would have put my managerial club career in England on hold for what I would have hoped would have been a successful campaign for Scotland, and maybe even longer than that.
"But there were overtures again. The only thing that made me leave Scotland was niggling thoughts in my head that I've got to wait eight months for the next competitive game.
"There was Birmingham, Bolton, another I can't remember. The thing that finally nailed it was the thought of not working with players day in, day out; I was really missing that."
In November 2007, McLeish resigned and took over as manager of Birmingham. His Scotland reign was short, but there were plenty of memorable moments.