Fad or forever smitten: Has the US finally fallen in love with soccer?
By Simon Stone
BBC Sport in Los Angeles
Last updated on .From the section Football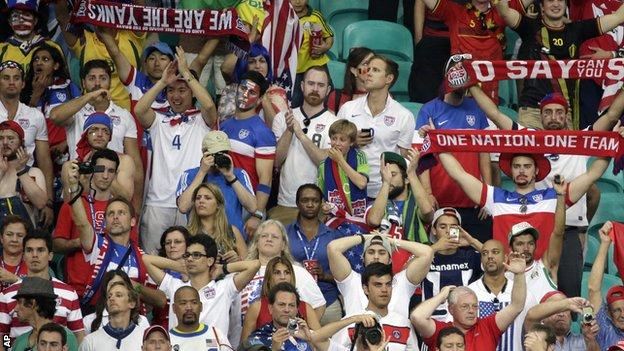 Soccer is still far enough below the radar in the United States for Robbie Keane to lead a relatively normal life in his adopted city of Los Angeles.
Intending to watch the US take on Belgium in the last 16 of the Fifa World Cup, the Republic of Ireland international was able to head into town with Los Angeles Galaxy technical director Jovan Kirovski in virtual anonymity.
The scene that confronted the former Wolves, Coventry, Leeds, Tottenham and Liverpool forward was a big surprise.
"The place was absolutely packed," says Keane, 34, who has been in California for almost three years, playing for Major League Soccer (MLS) side LA Galaxy.
"Jovan played 62 times for the United States. He said he had never seen anything like it and the difference to the previous World Cup was incredible. The whole country got hooked."
Despite a 2-1 defeat in extra time, US President Barack Obama was sufficiently impressed to make a telephone call to goalkeeper Tim Howard and skipper Clint Dempsey.
That personal message of congratulations from one of the most powerful men in the world could prove to be as significant as anything that happened on the pitch in Brazil.
The conversation may have lasted only 123 seconds, but soccer had been given a big thumbs-up by the White House.
That such a call would ever take place was pretty implausible a decade ago.
In 2003, the Giants Stadium announcer could not even get the name of England's most celebrated player correct, introducing "Sir Bobby Carlton" to the 79,000 supporters at the pre-season friendly between Manchester United and Juventus.
It drew sniggers from the English contingent in the press box, as did the random bursts of applause for goal-kicks and successful offside traps that raised heads in the media area from seasoned hacks who thought they were missing something.
In hindsight, it should not have been such a shock.
An education process was under way, one that had begun back in 1994, when the States hosted the World Cup for the one and so far only time in the tournament's history.
That process was aimed at securing soccer's place in American sporting culture on a permanent basis, rather than the fleeting joy of the defunct North American Soccer League, which brought Pele, Franz Beckenbauer and George Best to the country and spawned the New York Cosmos.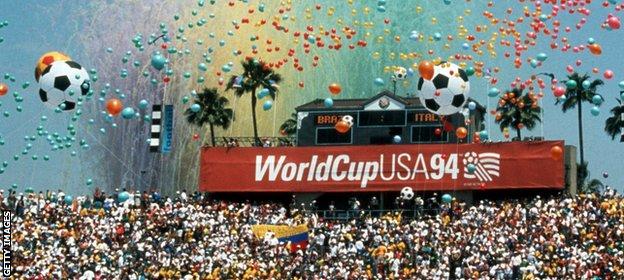 As recently as 2000, MLS was still using penalty shootouts to decide matches, so concerned was the fledgling league at the potential reaction to a drawn game - almost an abomination in sports like basketball, baseball, ice hockey and American football.
"When our league was founded, we wanted to appease everyone and get everyone to understand," says Galaxy president Chris Klein.
Not any more, he says.
"This is the world sport, the best game there is," adds Klein.
"I am quite confident that, if we continue to do it the right way, we have enough soccer fans in this country to make it wildly successful."
With Manchester United due to take on Keane's Galaxy in the first of four pre-season games on Wednesday, soccer faces another test of its popularity and staying power in the States.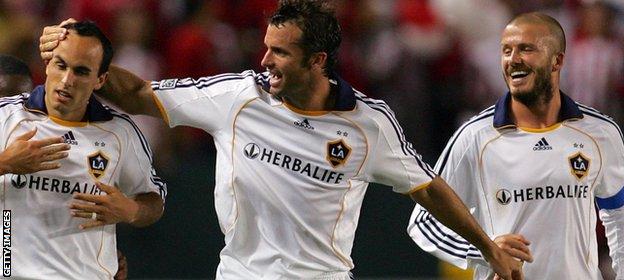 Will the fans who took to the streets in their thousands to watch Jurgen Klinsmann's team take on Ghana, Portugal, Germany and Belgium show interest in United and other top European teams who have made the trip to the States - the likes of Real Madrid, Roma and Liverpool?
Who knows, but the evidence that soccer is beginning to permeate American society in a major way is compelling.
Schoolchildren in a 17,000-plus crowd at the StubHub Centre for LA Galaxy's midweek victory over New England Revolution are as likely to have pictures of their club's own World Cup hero, Omar Gonzalez, on their wall as they are any of the other sporting stars in this vast city.
"It is quite hard for a kid here to get hooked on one sport because there is so much going on," said Keane.
"But certainly football has grown, even in the short time I have been here."
That said, all 32 National Football League teams have average attendances of more than 50,000, with Dallas Cowboys' 88,043 the highest and Oakland Raiders' 50,444 the lowest. MLS side Seattle Sounders average 44,038.
When Manchester United last visited the US in 2011, barriers had to be erected to allow players uninterrupted passage to the team hotel in Seattle as autograph hunters queued up almost 24/7.
On Friday, when they arrived in Los Angeles, United's security team was assisted by police officers in keeping scores of fans in check as manager Louis van Gaal and his players disembarked from the team bus.
It is not comparable with the manic scenes that accompany them on visits to Asia but is a marked difference to 2003, when United came to LA and could wander the streets with barely a second glance.
Back then, only the uniformity of their tracksuits triggered any sort of superficial interest.
Fifty-seven thousand, mostly Mexicans, turned up to watch Sir Alex Ferguson's side defeat Club America at the Coliseum, a stadium that held 92,000. A taxi driver had to be told what sport the team based there played.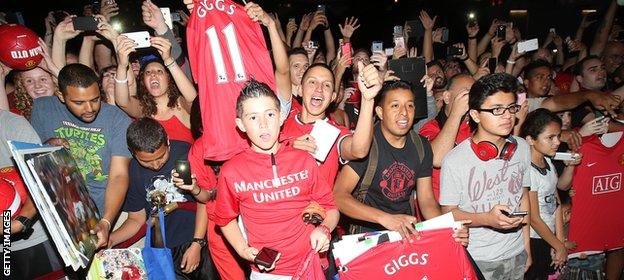 What about viewing figures?
Just over 26 million watched Germany overcome Argentina in the World Cup final, the most-watched soccer game in US history.
Only three million fewer watched US lose to Belgium.
Looking ahead, it is clear that soccer is only going to get bigger audiences in the States.
Fox Sports and Telemundo have paid £600m for the 2018 and 2022 World Cups, ESPN, Fox Sports and Univision Deportes have spent £420m for MLS coverage to 2022, while NBC has handed over £146m for the rights to the English Premier League.
Even the sceptics concede soccer is on a roll.
"The World Cup energised the soccer base in the US," said Jim Peltz, a sports reporter for the Los Angeles Times. "It got them excited.
"But will soccer ever become mainstream? Probably not.
"The truth is, a lot of people find soccer way too boring. We are used to seeing a lot of scores and home runs.
"The World Cup might convert a few people, but in terms of becoming as popular as baseball, basketball or [American] football, that is highly unlikely."
Peltz's view is underlined by the complete absence of any soccer coverage, beyond a couple of fixtures in the TV schedules, in his newspaper's six-page sports supplement on the day Manchester United landed for the start of their pre-season tour.
Is that a problem, though?
Peltz is a journalist, not a marketeer. His own research suggests the 'soccer base' numbers around 50 million.
That is less than a sixth of the US population. But it is also not far off the combined populations of Argentina, Netherlands and Uruguay, who between them have played in nine World Cup finals.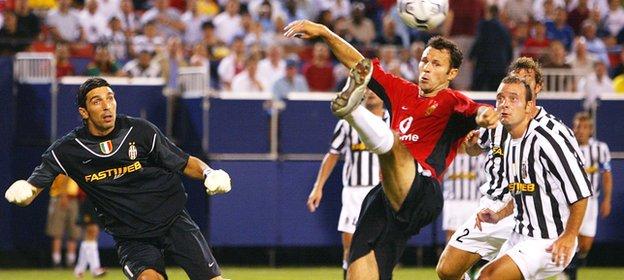 "We don't need to be the NFL, MLB or NBA," said Klein. "It doesn't matter. Our country is big enough. We just need to be ourselves."
At Barney's Beanery diner in West Hollywood, replays of golf's Open Championship, plus coverage of Nascar and baseball were the order of the day on the 57 screens across an establishment noted for its comprehensive sports coverage.
It may have been a quiet Friday, but staff there have still not got over the excitement generated by the World Cup.
Whenever the US were in action and when Germany faced Argentina in the final, it was standing room only, with every available table squeezed to capacity.
There was so little room, the serving staff were only able to stand in one space and dispense food in a pass-the-parcel style.
Enthusiasm was so great at one point that a customer leapt high enough to crack his head on the ceiling and required medical attention.
"I have never experienced anything like it," said one waitress. "We have all the big games on in all the sports. Nothing compared to the World Cup."
The diner opened early - at 9am - for the first game of the day and welcomed fans even earlier whenever the US were playing.
It also got into the swing of things by taking Belgian beer off the menu the day the US played Belgium.
"There was far more positive energy around the World Cup," said AJ Sacher, Barney's Beanery director of operations.
"For our traditional sports, there is a negativity that comes from watching, purely because you want someone to lose. That didn't happen with the World Cup.
"We expected to have plenty of people in to watch the US, Mexico, England and Brazil. But when Iran played, it was as if the Iranian community came out to support their team."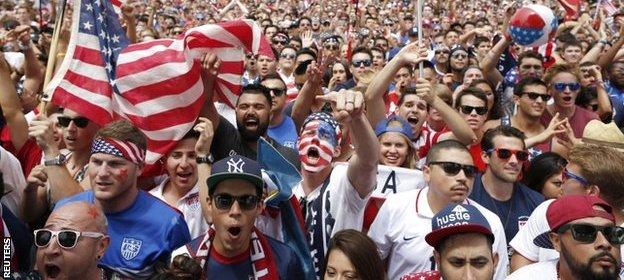 MLS does not generate the same degree of excitement or coverage as the World Cup. Indeed, the Champions League is next on the list of "must-see soccer watches," according to Sacher.
For their next international fix, fans must wait for next year's Concacaf Gold Cup, which will feature teams from the Confederation of North, Central America and Caribbean Association Football.
Then, in 2016, there is an event to celebrate 100 years of the South American Confederation, featuring all 10 South American teams, plus six from Central and North America.
It will be the most significant football tournament hosted by the US since it staged the Fifa World Cup in 1994.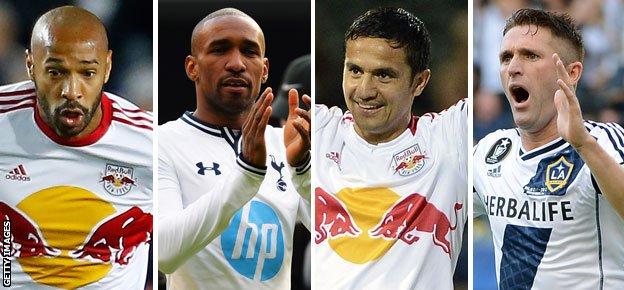 In the meantime, the MLS boasts players of the calibre of Thierry Henry and will soon add David Villa and Kaka to a growing list of international stars.
Liam Ridgewell does not bring the same stardust. But the journeyman Premier League defender's arrival from West Brom at the age of 29 hints at a raising of the standard too.
"Of course there is the attraction of living in America," said Keane. "People actually want to live here.
"Big players want to come over. But not-so-big players want to come over as well."
Keane has no intention of going home. For a start, the March to October season allowed him to spend Christmas at home for the first time in 17 years.
However, with his enthusiasm comes a warning; yet more confirmation that life in the MLS should not be viewed as a retirement home.
"If players think they are coming for a holiday, they are coming to the wrong place," he said.
"The American players are so enthusiastic about how strong this league is.
"The last thing they want are European players coming over and thinking they are coming for a jolly.
"In the next five to 10 years, the MLS could be absolutely massive. I am excited to be part of that."