Women's football: Julian Dicks on highs and lows at West Ham

By Anna Thompson
BBC Sport
Last updated on .From the section Football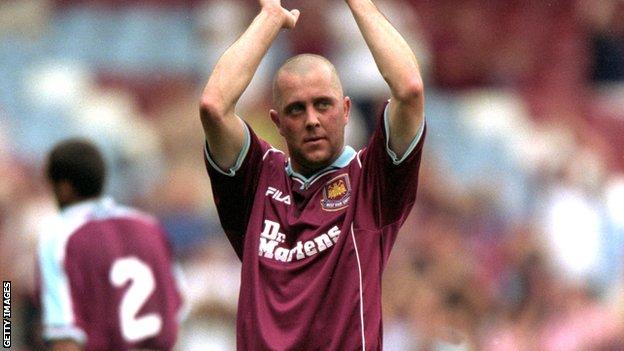 He was a no-nonsense, tough-tackling hard man of football in the 1990s, who earned the nickname the Terminator, and played more than 250 times for West Ham.
Now Julian Dicks is back at the east London club, this time managing the women's football team.
"I've got 25-year-old twin daughters so I'm definitely in touch with my feminine side," said the former defender.
"I coached women's football in America and I really enjoyed it. Women footballers don't have egos like the men, they want to learn and they don't talk over you when you're speaking. It's different and refreshing," says Dicks.
His return to the Hammers came about fortuitously when an elderly gentlemen approached him at an event hosted by former Irons manager Billy Bonds at Dagenham & Redbridge three months ago.
Julian Dicks's professional clubs

Team

From

To

Transfer fee

Birmingham

Apr 1986

Mar 1988

Apprentice

West Ham

Mar 1988

Sep 1993

£300,000

Liverpool

Sept 1993

May 1994

£1,500,000

West Ham

May 1994

Jul 2002

£1,000,000
A social media campaign was then started by first-team player Stacey Little to install Dicks. He saw it, got in contact with Ray Wood, who is chairman of the ladies team, and now finds himself manager of the club which are in the third tier, the FA Women's Premier League Southern Division.
Last season they finished 10th out of 11 teams.
"If you had asked me 20 years ago about women's football I would have had a different view of it but things change and people change," the 45-year-old said.
"It's a good standard of football but it still has a long way to go."
The team currently have no financial backing from West Ham United - the players even pay for their own kits.
But Dicks is hopeful that will soon be rectified.
"I had a positive meeting with West Ham," he said. "I'm not asking for the earth but a few thousand pounds would really help us."
They start their league campaign against Maidstone this weekend and Dicks said training had been going well.
"I do approach it differently because they're women. I don't rant and rave like I would with the men and I have to be sensitive to their emotions," he quipped.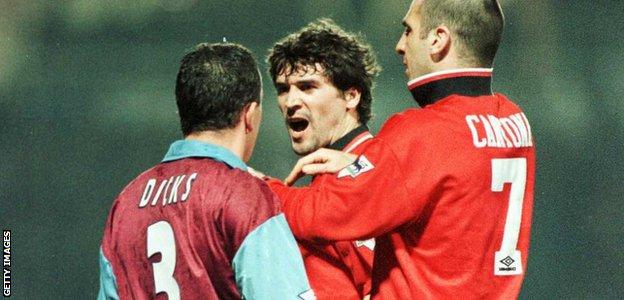 "But I've added some toughness. They used to apologise in training when they went in with a tough tackle on their team-mate. I'm not having that," said Dicks, who once broke the leg of new West Ham signing Simon Webster in a training accident.
Dicks, who was as known for his poor disciplinary record as well as his free-kicks and penalties, retired from professional football at the age of 29 because of a recurring knee injury. He bought a pub in Essex which he ran for four years, briefly became a professional golf player, then moved to Spain for a while.
He has had two previous forays into management, with men's teams Wivenhoe Town and Grays Athletic with mixed results and now he wants to take West Ham Ladies as far as he can. Dicks and former Leicester City striker Trevor Benjamin, who manages Newcastle United Ladies, are they only two former Premier League players to manage women's teams in England.
"I really miss playing for West Ham and the next best thing is managing so I'm delighted to be given the chance," he added.
Dicks was also a guest on BBC Three's Women's Football Show.