Rangers to introduce fans' board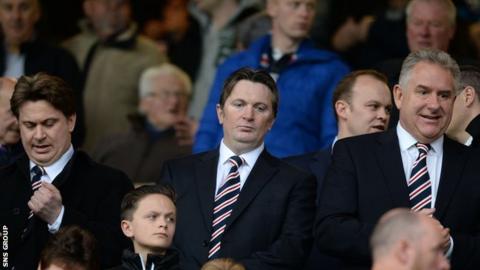 Rangers have announced plans for a fans' board to provide "a platform for more structured dialogue" between those running the club and supporters.
Nominees will be chosen by an independent committee, which includes former captain David Weir and Scotland rugby international Al Kellock.
The panel will consider applications from season ticket holders and club members before drawing up a shortlist.
The final picks will be determined by an online vote.
Rangers chief executive Graham Wallace told the club's official website: "It is clear that the wider fan base is fully supportive of the creation of an official fans' board so I am delighted to confirm this tangible step towards its implementation with the announcement of a nominations committee.
"The committee will select a number of candidates for election to the fans' board they feel best placed to represent the interests of supporters around the world.
"The introduction of a fans' board will provide the platform for more structured dialogue as well as providing the club with a better understanding of the issues and concerns of the fan base.
"I hope this process underlines our commitment to improving communications and engagement with our supporters."
On Saturday, around 1,000 fans staged a march to Ibrox to demand the stadium is not used by the board as security against any future borrowings.