Steven Gerrard: England captain 'broken' before retirement

By Phil McNulty
Chief football writer
Last updated on .From the section Football1223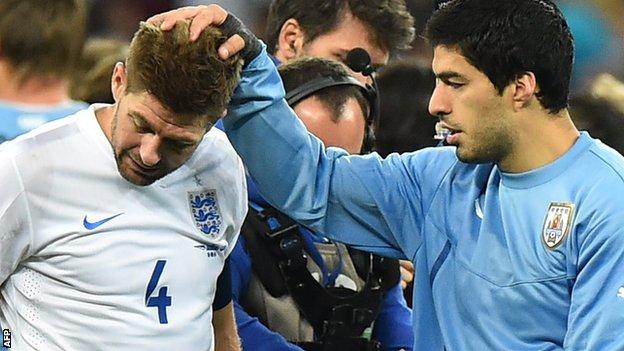 When England captain Steven Gerrard revealed he had been left "broken" by the failure of a World Cup campaign in Brazil that effectively only lasted six days, there was nothing that would fix the pain.
It meant a decision that was already in the making even before he left for South America was merely confirmed by England's exit - only two games into a tournament he hoped would provide a perfect finale to his international career.
Gerrard, looking mentally and physically shattered at England's Urca Military Base a short drive from Copacabana, claimed only he knew what was going on in his mind.
One look at his face meant everyone else could have a very good guess.
The 34-year-old was respectfully allowed to make his departure at a time of his choice, but there was no turning back once England completed the formalities in Brazil.
Manager Roy Hodgson asked Gerrard to continue as player and captain - but this most self-analytical and self-critical of personalities knew it was all over.
And he was right.
Gerrard's influence in a holding role, tailored to fit in with those advancing years and the understandable realisation he was not the rampaging game-changer of old, was reduced at such an elite level. His unwitting part in Uruguay's two goals in England's 2-1 defeat, scored by his then-Liverpool team-mate Luis Suarez, meant this was not a story with a happy ending.
The pieces were in place after an England career stretching back to his debut against Ukraine at Wembley in 2000.

Gerrard was a fading force with England after such a creditable career, Liverpool were back in the Champions League.
The notion of fitting an England Euro 2016 qualifying campaign into this schedule did not add up - something had to give and all logic said it must be his international career.
In many ways, events in Brazil were Gerrard's England career in microcosm.
Over 114 caps, Gerrard could not quite touch the heights with England that he reached with Liverpool and the 2014 World Cup saw him and his country fall short once more.
It was the final disappointment for Gerrard, who had always represented England with pride, especially as captain, although never quite with the distinction he did for Liverpool.
Gerrard had his moments with England, scoring in that memorable 5-1 win against Germany in Munich in 2001, but they were occasional highs and never delivered with the brilliant regularity they were with Liverpool.

In context, however, he was part of the highly hyped team of Frank Lampard, Paul Scholes, Gary Neville, David Beckham and Wayne Rooney. And unless Rooney pulls off something spectacular and unexpected in France in two years, they all have something in common.
They leave behind an international career unfulfilled when measured in success, with not even a major final to place on their CV.
There was no silver lining for Gerrard's 'Golden Generation'.
In the unforgiving court of social media, there was a predictable reaction to Gerrard's announcement, ranging from praise for an outstanding professional who never gave anything other than his maximum (the view shared here) to others claiming, nonsensically, that it was almost good riddance.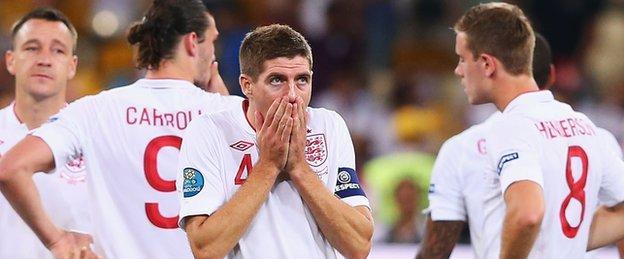 In his quieter, introspective moments - and he has plenty of them - Gerrard himself will openly admit that his England career fell short of what he wanted.
No-one will know that more acutely than him.
This should not disguise the fact that he was always worth his place in the side. England would never have been a better team without Gerrard once he moved into his peak years after missing the 2002 World Cup in Japan through injury.
And those happy to lobby for his removal from the side, particularly at the height of the debate about whether he could play alongside Lampard, struggled to come up with any realistic alternative.

Gerrard has won every club honour apart from the Premier League, and he felt the pain of going so close with Liverpool last season only to be reminded at every turn about his slip that led to Demba Ba's goal in the crucial Anfield defeat by Chelsea. He never came close with England.
And the anguish of this was written all over his face when he addressed the media after England's elimination in Brazil.
The best opportunity came as part of an excellent England side under Sven-Goran Eriksson at Euro 2004, when even then Gerrard had the distraction of the first links of a move away from Liverpool to Chelsea.
He made an error in the opening defeat by France but ultimately England were only undone on penalties by hosts Portugal, helped by an early injury to Rooney and questionable decisions, in the quarter-final.

Maybe he was simply part of an England system and preparation that did not lend itself to getting the best out of such an outstanding player. He would not be the first to suffer this fate.
Gerrard had a good England career but not a great one.
Gerrard's England career in numbers
114: Number of caps. England's third most-capped player behind Peter Shilton (125) and David Beckham (115)
12: Number of World Cup finals matches he played in, scoring three times
38: Matches as England captain
The statistics and evidence back this up - but having watched his influence at close quarters as captain and the respect in which he is held by the squad, management team and support staff, he will be missed.
He can look back with pride on his place as one of England's most enduring talents, although he will always regret the manner in which it concluded, a short appearance as a substitute in a meaningless goalless draw against Costa Rica in Belo Horizonte.
This was not how it was meant to end but reality had bitten against Uruguay. It was the right time go.
Liverpool and manager Brendan Rodgers will be the immediate beneficiaries as Gerrard can now give them his undivided attention.
England must now turn to the next generation - Gerrard is right to realise they must do that without him but he will go with the respect of all those who have worked and dealt with him throughout his 14-year involvement.