Cash-strapped Exeter City justify Brazil pre-season trip
Last updated on .From the section Football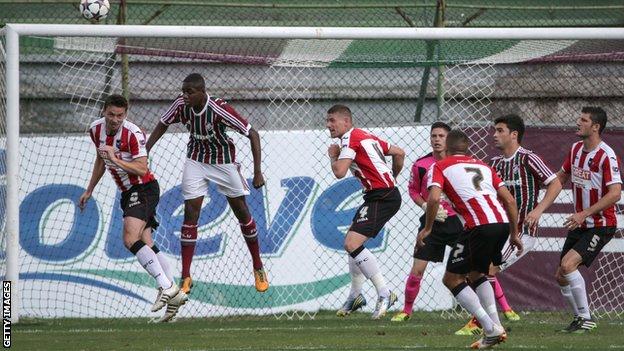 Exeter City's tour to Brazil has been defended by the club's management.
City last month after cash-flow problems and they are
"The money that has paid for this trip, and it hasn't cost the club anything, is not money that would normally have come to the club," said business development manager Bruce Henderson.
"We haven't tapped into funds that would have normally come to the club."
City drew 0-0 with Fluminense's Under-23s side on Sunday, exactly 100 years since the club played the Brazil national team in the country's first-ever match.
But with the club unable to sign any new players until the PFA loan is repaid, some supporters have questioned spending thousands on sending the team on a pre-season tour to Brazil.
"This was money that was specifically raised and given and came out of marketing budgets that wouldn't have come to us anyway," Henderson told BBC Sport, while in Rio de Janeiro.

"It's not fair to say that we should have spent the money on something different, it was right that it was given here.
"We'll certainly break even, although I'm always cautious about over-promising.
"When it's all done and dusted and books are written and DVDs are sold, I think we'll show a small profit.
"But I think the main intention was to be sure to cover our overheads and that we have surely done."
Meanwhile, the Brazilian organiser of the tour says Fluminense could make the return journey to Devon and face Exeter in the future.
"Exeter and Fluminense have really great plans and we're working hard for the next step, we're already thinking of the next job," Ricardo Calcido told BBC Radio Devon.
"Why not take Fluminense to play Exeter City at St James Park and having an exchange of shirts? It's like a dream come true.
"We guys are proud to host Exeter City. To us, it doesn't matter whether you are from the Premiership or Leagues One, Two, Three or Four, you are our brothers and 100 years later we will welcome you again."