Magpies FC withdraw from Jersey Football Combination
By Brent Pilnick
BBC Sport
Last updated on .From the section Football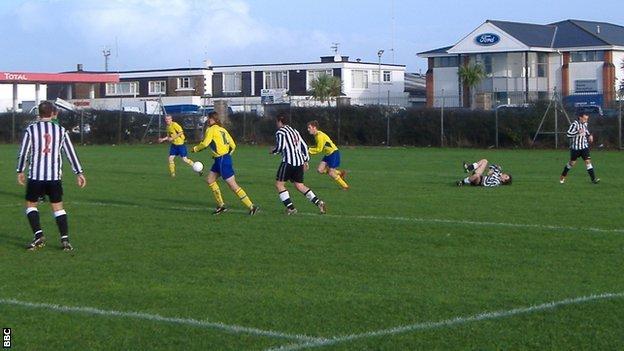 One of Jersey's oldest football clubs, Magpies FC, have withdrawn from the Jersey Football Combination.
The club is one of the island's oldest, having been formed in 1924, but has been unable to find enough players or a manager for the forthcoming season.
"I'm really devastated," president Bernie Perrier told BBC Sport.
"We haven't got enough players to play in the Championship. In the last couple of years people have been drifting away."
The club celebrated its 90th anniversary on 24 May and had its heyday in the mid 1950's as they won titles in 1954, 1955 and 1957, to add to their first Jersey title in 1939, the last time the league was played before the start of World War Two.
"With any club you get ups and downs, we've had ups and downs several times, but we've always overcome them. But this time we haven't got the people to do it," said Perrier, who has been associated with the club since 1959 and been president for the past 30 years.
"My immediate reaction is one of how incredibly sad it is," added Jersey Football Combination president Tim Darwin, who played for and helped run Magpies before taking the top job at Jersey's league.
"Clearly from a league point of view it's really disappointing because we're at a point where we're setting fixtures and cup draws and this was last minute.
"But they've asked us to keep the club affiliated with the league, so whilst they won't be participating, they can be kept affiliated so they could make a comeback next season."