Liverpool after Luis Suarez: Does it pay to sell your best player?
Last updated on .From the section Football422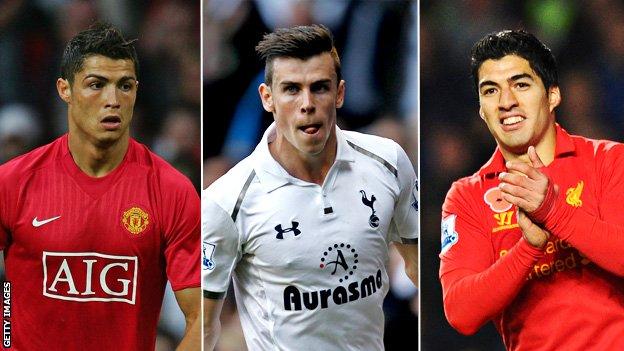 Cristiano Ronaldo, Gareth Bale, Luis Suarez. Each player hit a dazzling run of form in recent years that lifted them above their team-mates, opponents and the rest of the Premier League.
Each then left England for Spain's La Liga and the giants of Real Madrid and Barcelona.
Five years ago, Manchester United lost Ronaldo to Real in a then world-record £80m move. Last season, Tottenham fans waved goodbye to Bale as he joined Ronaldo at the Bernabeu for £85.3m, a new record.
This summer, it was Suarez who departed for Barcelona, with £75m swelling the Liverpool coffers.
But does selling your prize asset leave a club vulnerable - or can you rebuild a squad with the bumper transfer kitty such a move provides, recruiting for the future?
BBC Sport assesses the impact of previous mega deals and ponders how Liverpool might cope without their star Uruguayan striker.
Cristiano Ronaldo - Manchester United to Real Madrid, £80m (2009)
Seven years ago, Cristiano Ronaldo had a season to rival the one enjoyed by Luis Suarez in 2013-14. The Manchester United forward was unplayable at times, ending the campaign with 42 goals, a Premier League medal and a Champions League win.
The Ronaldo effect on Man Utd

Season

Ronaldo appearances

Ronaldo goals

Top scorer

Final league position

Best cup run

2007-08

49

42

Ronaldo (42)

1st

Champions League winners

2008-09

51

25

Ronaldo (25)

1st

League Cup & Club World Cup winners

2009-10 (After sale)

Rooney (34)

2nd

League Cup winners
United kept hold of him for one more campaign but the summer of 2009 saw Ronaldo depart for Spain.
That summer Carlos Tevez also left the club to join rivals Manchester City. Between them, the pair had scored 101 goals in two seasons.
Ronaldo at Man Utd 2007-08 and 2008-09

In his last two seasons at Old Trafford, Ronaldo scored 49 Premier League goals in 67 games.

Eleven of his league goals in those two seasons came from outside the penalty area.

He also created 111 chances for his team-mates in the Premier League during that spell.

Ronaldo had 77 shots on target in the 2007-08 Premier League season, an average of 3.85 per game.
Sir Alex Ferguson rebuilt his squad by signing winger Antonio Valencia from Wigan for £16m, forward Michael Owen from Newcastle on a free, winger Gabriel Obertan from Bordeaux, and striker Mame Biram Diouf from Molde.
Valencia remains at Old Trafford, but the other three players made just 50 league appearances for the club between them before leaving - with Diouf back in the Premier League this season at Stoke.
Despite losing Ronaldo, United scored 18 more league goals in the following 2009-10 season, with Wayne Rooney scoring 26 times in 32 games. But crucially they relinquished their title to Chelsea, and after reaching the previous two Champions League finals, went out in the quarter-finals in Europe.
After winning three successive domestic titles prior to Ronaldo's departure, they have won just two of the five since.
Gareth Bale - Tottenham to Real Madrid, £85.3m (2013)
Last summer it was Tottenham who underwent a major rebuild as prime asset Bale agreed his world-record transfer to Real.
Bale's £85m move was not completed until transfer deadline day at the end of August, but Spurs had already spent the money by then, signing seven players to offset his departure.
The Bale effect on Tottenham

Season

Bale appearances

Bale goals

Top scorer

Final league position

Best cup run

2011-12

40

13

Adebayor (18)

4th

FA Cup semi-final

2012-13

44

26

Bale (26)

5th

Europa League quarter-final

2013-14 (After sale)

Adebayor (14)

6th

League Cup quarter-final
In the 2012-13 season, Bale scored 21 Premier League goals, and 26 in all, in a wonderful campaign that saw him named Player of the Year.
But Tottenham could still only finish fifth - missing out on a place in the Champions League - and Bale could not resist the move to Madrid.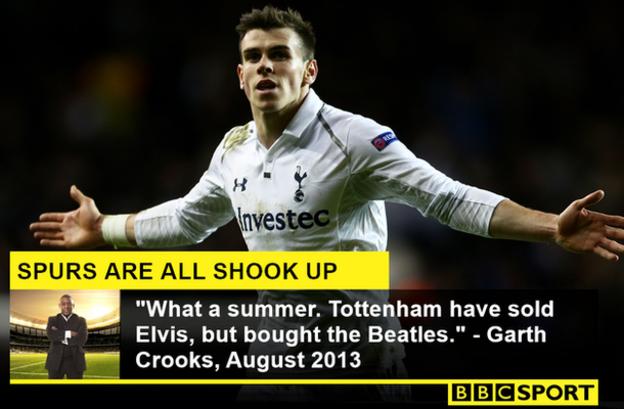 Tottenham signed Brazil midfielder Paulinho for £17m, Belgium winger Nacer Chadli for £7m, Spain forward Roberto Soldado for £26m, French midfielder Etienne Capoue for £9m, Romania centre-back Vlad Chiriches for £8.5m, Denmark midfielder Christian Eriksen for £11.5m and Argentina forward Erik Lamela for £25.7m in a bid to cushion the blow of Bale's departure.
The seven new faces were signed for an estimated total of £105m - but scored just 22 Premier League goals between them last season, one more than Bale managed the year before.
Bale at Tottenham: 2012-13 season

Bale scored 21 Premier League goals.

Nine of his goals came from outside the penalty area.

His goals won the club 24 points in the Premier League.

Without his goals, Tottenham would have finished in ninth place.
Fans paying good money to watch at White Hart Lane certainly missed Bale. But on the pitch, his loss was eventually negligible.
Despite the new boys' relative lack of success, and the loss of Bale, Tottenham finished last season with just three points fewer than the year before as Tim Sherwood eventually guided them to a sixth-placed finish.
Luis Suarez - Liverpool to Barcelona, £75m (2014)
Last season will live long in the memory of Liverpool supporters around the world, as Brendan Rodgers' side came within two points, a Steven Gerrard slip and a Dwight Gayle-induced meltdown of winning the league title for the first time in a generation.

The key man was Suarez. The Uruguayan was in sensational form once he had served a 10-match ban for biting Chelsea defender Branislav Ivanovic, scoring 31 times in 33 Premier League appearances and earning the club 16 points on his own. Without his goals, the Reds would not be looking forward to a return to the Champions League this season, but arguably a campaign with no European football at all.
But after another biting controversy at the World Cup, Suarez was sold to Barcelona for £75m.
Suarez at Liverpool: 2013-14 season

Suarez scored 31 goals in 33 Premier League appearances.

He also provided 12 assists in the top flight.

His goals were worth 16 points to Liverpool.

The Uruguayan created 87 Premier League chances for his team-mates.
Rodgers has already invested around £90m on Southampton trio Adam Lallana,Rickie Lambert and Dejan Lovren, Benfica winger Lazar Markovic, Bayer Leverkusen midfielder Emre Can and striker Divock Origi from Lille, with "one or two more" potentially arriving before the transfer window closes.
Origi has been loaned back to the French side but it could still be a new-look Liverpool XI that opens the Premier League season against Southampton on Sunday.
So how will the Reds fare, with the additional challenge of the Champions League to contend with?
Rodgers gave an unintentional hint last December, in the wake of his side thrashing Tottenham 5-0, of the problems a side can face when trying to replace a genuine star.
"Obviously there have been difficulties from Gareth Bale leaving Spurs. It shows you that when you have someone with that X-factor, sometimes eight, nine or 10 players can't replace that," Rodgers said.
"That was why we fought like tigers to keep Luis Suarez here because he is a top player. There are many good players but very few who perform week in, week out to that level."
Suarez will be missed, but Liverpool fans can take heart from the last time they rebuilt their squad after a record sale.
Striker Fernando Torres left Anfield for Chelsea for a fee of £50m in January 2011, with Liverpool using the bulk of that cash to sign Suarez from Ajax for £22.7m, as well as landing Andy Carroll from Newcastle for £35m in the same month.
With or without you - Liverpool's last 50 games with Torres, and first 50 without

With Torres

Without Torres

50

Played

50

21

Won

21

13

Drawn

12

16

Lost

17

65

Scored

71

48

Conceded

51

76

Points

75

*All stats for Premier League
Carroll's contribution to the club's history may be but a footnote, but the arrival of Suarez (69 goals in 110 Premier League appearances), combined with Torres's troubles since his move to London (20 goals in 110 games for Chelsea, while Carroll has managed 15 in 83 at at West Ham), means the January transfer window of 2011 goes down as a success.
The sale of Torres also had no impact on the club's immediate fortunes, with the Reds taking just one point fewer in the 50 games after his departure than they had in the Spaniard's final 50 Premier League appearances for the club.
Time will tell whether Suarez's departure will have a greater impact on Liverpool's fortunes, but Rodgers at least still has a proven goal-scorer to lead his attack.

Daniel Sturridge scored six goals in six games before Suarez returned from his ban last season, and hit 28 in all competitions for club and country.
The England striker's goals won Liverpool 20 points last season - the highest number for any player in the Premier League.
"I look at Liverpool and it could all come down to Daniel Sturridge," says BBC Sport pundit Pat Nevin.
"If he can stay completely fit and on form for the entirety of the season then it can work incredibly well. I rate him so highly I think he can carry that team on his shoulders.
"But you can't replace someone like Luis Suarez; there just aren't players around the world of that calibre available for you to bring in."
Irreplaceable? We are about to find out.