Paris St-Germain punished for abuse of disabled Chelsea fans
Last updated on .From the section European Football
Uefa has ordered the partial closure of Paris St-Germain's Parc des Princes stadium for their next Champions League game after disabled Chelsea fans claimed they were poorly treated at a match last season.
Two sections of the French champions' home will be closed for a game following an investigation.
A group of disabled Chelsea supporters said they were abused and harassed during the 2 April quarter-final tie.
One described it as "sitting in hell".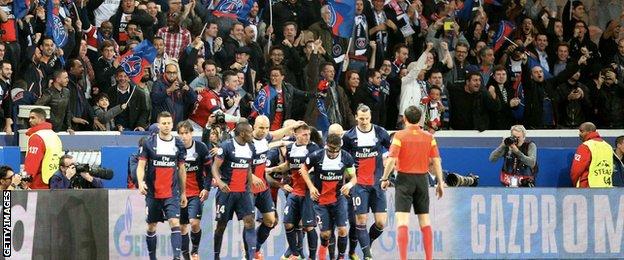 The visiting supporters who complained were seated among home fans and claimed they were spat at and had coins and bottles thrown at them.
Lisa Hayden, a wheelchair user and Chelsea season ticket holder, said she was terrified by the ordeal.
"It was very threatening," she explained. "I felt we didn't stand a chance in there and that someone was going to get seriously injured."
The punishment is unprecedented as a club has never been sanctioned for abuse relating to disability.
A Uefa spokesman confirmed: "The sanction has been imposed for the discriminatory conduct of some Paris St-Germain supporters towards disabled fans of Chelsea FC at last season's Uefa Champions League quarter-final first-leg match."