Hereford: Beadle says support for fans' game 'astonishing'
Last updated on .From the section Hereford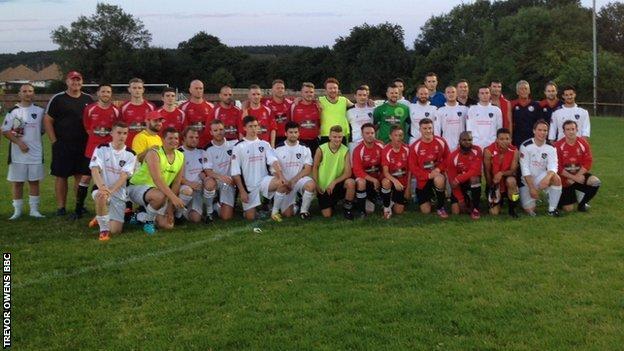 Ex-Hereford United boss Peter Beadle says seeing over 650 people attend a supporters' team friendly game, on the same night the Bulls took on Turkish giants Besiktas, was "astonishing".
Beadle, 42, was in charge of the Hereford United Supporters' Trust (HUST) side that played Ledbury Town in front of 654 spectators on Monday.
"It was astonishing but not surprising," Beadle said.
"It shows how passionate the supporters are and they made a large statement."
Hours before the match, Hereford took to the field in a friendly with Besiktas - behind closed doors in West Yorkshire - which they lost 6-0.
"It's surreal," Beadle continued to BBC Hereford & Worcester. "No-one knows the ins and outs - was it Beskitas? Was it their reserve or youth team?
"It wasn't the topic of conversation last night. It was about how well our match was supported and how welcoming Ledbury were."
The supporters' team, who lost the match 6-2 with a side made up of ex-professionals and a few fans, have been playing games for much for the last decade.
They became aligned with HUST in December 2013 in support of the Trust's decision to boycott Hereford United's home games for the coming season, in protest at the Bulls' new owner Tommy Agombar.
Since Mr Agombar took over, the club have been expelled from the Conference Premier for not paying their debts and are due in the High Court on Monday, 28 July to face a long-standing winding-up petition.
They are also currently under a transfer embargo imposed by the Southern League and have nowhere to play home games, with their Edgar Street stadium closed on safety grounds.
Beadle is still owned money following his departure in May to manage Sutton United after helping Hereford avoid relegation.
But, rather than being seen as alternative club to the Bulls, Beadle says the supporters' team illustrates how a new football club could survive if Hereford went out of business.
"Nobody wants that to happen, where there is no longer a Hereford United," Beadle said.
"If that does happen, there's enough support to re-start and re-form and I think that's the statement they're trying to make now."