Dallas Tornado: Football's most bizarre pre-season tour
By Richard Padula
BBC World Service Sport
Last updated on .From the section Football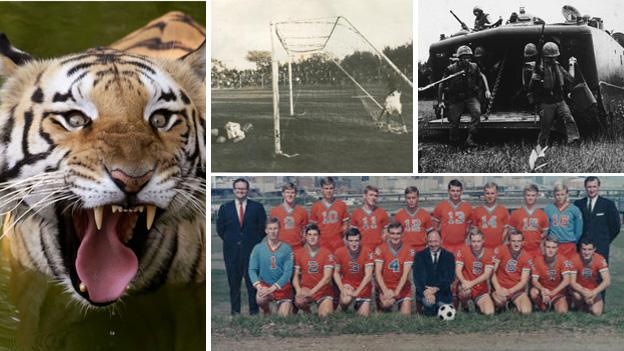 It was not your usual pre-season tour.
In 1967 the Dallas Tornado football team played games in Saigon during the Vietnam War, came face-to-face with Chinese militants, smuggled themselves past gun-toting border guards and Bengal tigers to cross from Pakistan into India and survived a riot in Singapore.
As the only American on the team, Jay Moore recalls: "That tour was worth a college education."
The original roster included seven Englishmen, four Norwegians, two Swedes, two Dutchmen and one American. The average age of the team was just 21. For six months they travelled 25,000 miles around Africa, Europe, the Middle East, Asia, Australia, and finally Central America.
The tour was funded by the Texan oil tycoon Lamar Hunt who said: "We feel it not only will give our young players invaluable experience at the international soccer level, but also will serve as a great goodwill instrument for both Dallas and the United States."
The craziness of it all finally sunk in on a gunboat travelling down the Saigon River.
"It was strange to be on a patrol boat with some American soldier shooting their machine gun and you can see the bullets in the water," says Dutch forward Fons Stoffels. "Twenty miles from where we were playing the game, grenades were exploding. It was weird, really weird. Two weeks after we left, the Tet Offensive started in Saigon. It was terrifying."
Dallas Tornado tour schedule: Aug-Dec 1967

Training camp under the guidance of head coach Bob Kap began in Madrid in August. Five games, including one in Morocco, were played from 24 August to 20 September

10 October:

Tornado kicked off the main portion of their world tour in Istanbul, Turkey, with a 2-2 draw against Fenerbahce

3 December:

Stones thrown in 4-2 loss to Singapore FC, prompting the San Francisco Chronicle to run the headline "Dallas Tornado Player Stoned in Singapore"

17 October:

Iranian Air Force 2-1 Tornado

14-15 December:

1-1 and 2-2 draws against Vietnamese selection teams in Saigon 45 days before Tet Offensive

27 October:

Pakistan XI 0-2 Tornado

20 December:

Chinese All Stars Formosa 2-3 Tornado

3-4 November:

Half of team stranded in Bengali jungle because of visa difficulties

26 December:

Japan All Stars 3-2 Tornado

19 November:

India XI 1-4 Tornado
They played two games in Saigon, drawing 1-1 and 2-2 against Vietnamese select teams.
But the Dallas Tornado players were lucky to have made it that far - earlier in the tour, things turned violent in Singapore.
As Swedish forward Jan Book explains: "Dallas did not have that great a reputation after the JFK incident [assassination of US president John F Kennedy]. We were supposed to be a goodwill ambassador for Dallas and for Texas, and that's one reason we were wearing cowboy hats for the whole tour."
But for the match against Singapore FC, they were met with chants of "Yankie go home" and it descended into a full-scale riot.
"I think it was one way of the fans venting their frustration towards America," Book continued. "One of their players picked up a corner flag and attacked one of our players with the business end of the flag.
"Have you ever seen that in a soccer game? Can you imagine seeing that today? How would Steven Gerrard [the former England captain] feel if someone came running at him with a corner flag?"
Singapore FC won 4-2 and the Tornado players fled for their lives with irate fans hurling rocks at the team bus as it sped off.
It prompted the San Francisco Chronicle to run the headline 'Dallas Tornado Player Stoned in Singapore', something Book had difficulty explaining to his grandchildren years later. The Tornado's next game in Singapore was cancelled.
The man who brought the team together was coach Bob Kap who died just over four years ago. Kap introduced himself to the Tornado owner Lamar Hunt in a letter.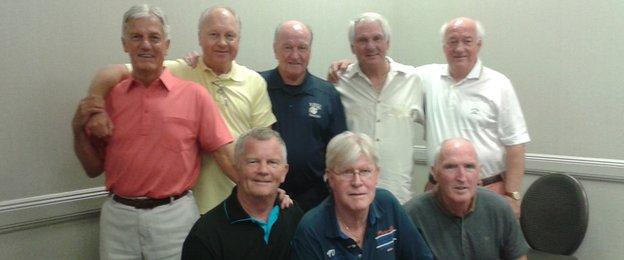 In it he described himself as a Serb-born Canadian immigrant who had trained at a famed Hungarian soccer academy and was a close friend of Ferenc Puskas, the Hungary and Real Madrid legend. But as the Manchester-born winger Mike Renshaw explains, Kap could not always be trusted.
"Embellishment is a good word I think. A couple of years after we got back to Dallas, I was digging around in one of the storage units the club had. I came across a board which had all the games written down from the world tour which apparently they set up in the club offices," he says.
"As we played a game they'd fill in the score and at least half of the scores were wrong. We won games on that board that we didn't win! That's what I'm saying by embellishment. And how was it checkable in those days? So, Bob would send a telegram saying we won in Burma 3-1, but no we didn't, we lost 4-0."
In November 1967 the team were briefly broken up mid-tour. For the English players and those with Commonwealth passports, the journey from Pakistan to India was straightforward. But, unable to cross the border, the rest of the squad were stranded.
After two rough nights spent in a run-down bungalow with rats the size of cats, the Scandinavian, Dutch and American players finally got their visas. But, as Book recalls, the drama was far from over.
"So we're coming to the Pakistani side of the border and we show them the visa to get across. The general who was in charge of that border patrol was asleep and he needed to give the stamp of approval and they were all afraid that they'd get shot if they woke him up," he says.
"We're standing there with our luggage, the bus had taken off and we're in the Bengali jungle and they have tigers. We're in the middle of nowhere. Finally we got one of the guards to understand. He took us down the fence line and cut a hole in the fence.
Dallas Tornado tour schedule: Jan-Mar 1968
1 January:
Philippine select XI 0-7 Tornado
6 January:
Philippine national team 2-1 Tornado
17 January:
Australia 2-3 Tornado
25 January:
Canterbury (New Zealand) 2-2 Tornado
4 February:
Fiji national team 1-3 Tornado
15 February:
Team landed in Dallas Love Field, greeted by a crowd of 1,000 including the mayor Frank Hoke, 175 soccer players in uniform, musicians cheerleaders and media
16 February - 5 March:
Players trained, acclimatised and looked for apartments ahead of the new North American Soccer League season
6/8/10 March:
Games in Costa Rica and Honduras before the team's season opener on 30 March against the Houston Stars at Turnpike Stadium in Arlington
"And here we are, 11 of us with cowboy hats and luggage crawling through a hole we can barely get through, knowing we can get shot at any moment or a Bengali tiger is going to attack us."
In the end they made it across, scared but safe, to be reunited with their team-mates who were relaxing by playing billiards in a rather plush Indian hotel. Having had no time to sleep, they took to the field and managed to draw 0-0 against the Indian national team in Kolkata.
If this gruelling, dangerous pre-season tour was meant to prepare the team for the new season, it failed spectacularly.
The Tornado were playing in the North American Soccer League, later to be made famous by Pele and the New York Cosmos, but after playing 32 games in 26 countries, the players were mentally and physically drained.
Dallas lost their first game 6-0 to Houston Stars. They won just four league matches all season, losing 26 with a goal difference of minus 81.
The world tour team broke up, but Dallas would play a key role in the NASL until their dissolution in 1981. They were championship winners in 1971.
As Liverpool-born defender Bobby Roach says: "Can you imagine a team going on a tour like that today? It was crazy. It would never happen again. Never."
The Dallas Tornado players have reunited for a special edition of World Football on BBC World Service. Hear the full story on Friday at 04:32/14:32/23:32 GMT or download the podcast.