Frank Lampard retires from England but his legacy lives on

By Phil McNulty
Chief football writer
Last updated on .From the section Football
Frank Lampard, who has announced his England retirement, will forever be remembered as the catalyst for a revolution in the world game.
Sadly for the player and the national team, it was not via tournament success or delivering on the promise of the so-called "Golden Generation" of which he - and the likes of David Beckham, Michael Owen and Steven Gerrard - was a part.
Lampard's 106-cap career with the national team will live longest in the memory for the moment in Bloemfontein's Free State Stadium in the South Africa World Cup of 2010 when, with Germany leading 2-1, his shot from 20 yards dropped off the bar and clearly bounced behind the line of goalkeeper Manuel Neuer.
Uruguayan referee Jorge Larrionda and his officials ignored what seemed obvious to most inside the arena and allowed play to continue. Lampard's anguished expression became a symbol of England's failure as Germany went on to win the last-16 game 4-1.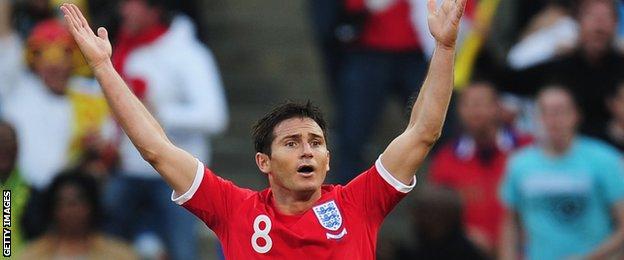 It was, however, the final straw for the goalline technology lobby, with that innovation introduced soon after. It was used successfully at the 2014 World Cup in Brazil, ensuring Lampard's presence was felt, even though he was only a peripheral figure in Roy Hodgson's squad.
To suggest that has been Lampard's main contribution to England is to ignore an international career he can reflect on with great pride, but one that was always going to end once the Brazil World Cup was over.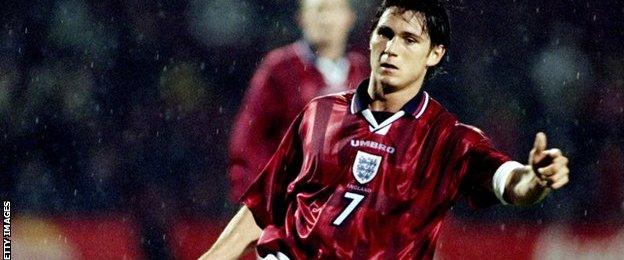 And Lampard's decision to end his England career so shortly after captain Gerrard made the same momentous move carries a symmetry that has linked their international careers.
Lampard, 36 during the World Cup, gave the same speech as Gerrard in Brazil about taking his time to make a decision about his future while also weighing up an invitation from manager Roy Hodgson to continue to make himself available.
For Lampard, however, there was an even greater inevitability about his retirement than Gerrard because the evidence was even more heavily stacked against the notion of him carrying on.
Gerrard could at least ponder his future from his position as a starter in England's team, with assurances from Hodgson that would he remain as captain if he stayed on, despite disappointing personal performances in South America.
Frank Lampard's England career

Oct 1999

Made his debut in a 2-1 victory over Belgium

Aug 2003

First goal in a 3-1 victory over Croatia

June 2004

Scored three goals in four matches at European Championship in Portugal

2006

Top scorer for England in World Cup qualifying campaign

March 2009

Scored the 500th goal at Wembley against Slovakia

June 2010

Goal disallowed against Germany as England lost in last 16 of World Cup

Feb 2011

Manager Fabio Capello named Lampard captain in a friendly against Denmark

June 2012

Ruled out of Euros with a thigh injury

March 2014

Surpassed David Platt's record to become England's highest-scoring midfielder with 28 goals

June 2014

Captained England to a 0-0 draw with Costa Rica in the World Cup in Brazil
Lampard, a surprising World Cup selection after a mixed season with Chelsea, was on the margins and was only given a farewell outing as captain against Costa Rica because England's fate had already been decided. He had been overtaken by Liverpool's Jordan Henderson and would not have figured had anything been riding on that final group game in Belo Horizonte.
As with Gerrard, it is the right decision to go. Lampard can look back with qualified satisfaction on an England career in which he enjoyed 62 victories and scored 29 goals after making his debut against Belgium on 10 October 1999.
Gerrard won his first cap the following May against Ukraine - and since then their international careers have almost gone hand in hand.
Like Gerrard, Lampard has had an England career that can be placed in the bracket of good but not great. Like Gerrard, Lampard has not been able to reproduce the heights of form, or the success, that he did for his club.
Indeed for many years, particularly under Sven-Goran Eriksson, the debate about whether two such outstanding players at club level could function successfully in internationals was a constant England narrative, a question that was never fully resolved.
Such was the understandable temptation to play the pair together that Eriksson pushed the brilliant Paul Scholes out on to the left flank, unwittingly giving the great Manchester United player a shove towards his own international retirement.
Lampard's lack of success with England sits uneasily alongside three Premier League titles, the Champions League, Europa League, four FA Cups and two League Cups for Chelsea.
Perhaps he and Gerrard were simply unable to rise above the malaise that has removed England from what the Football Association still regards as their elite status but now, in reality, leaves them as a strictly second-tier country.
In the wider context, Lampard leaves behind a magnificent record of club service at Stamford Bridge, Chelsea's all-time record scorer with 211 goals since joining from West Ham United in 2001.
Lampard never ducked an opportunity to play for England when fit. He was a mature presence around the squad and in front of the media, an exemplary professional who can look back over such a long time at this level with great pride.
There were no finer role models for the rest of England's squad (and those now looking to force their way into Hodgson's plans as he prepares for the Euro 2016 campaign) than Lampard and Gerrard.
There is no doubt his powers, like Gerrard's, have been on the wane with age. The old ability to glide into the box with perfect timing naturally diminishes with age.
Lampard will leave with Hodgson's thanks and a tinge of regret from the manager, but the realist in the player will tell him the show has run its course.
He is currently on loan at Manchester City after leaving Chelsea and joining New York City FC in the summer and will start a new phase of his career in the glitz and showbiz of the Big Apple in January with the approach of the consummate professional that has always been his trademark.