South Africa name Ephraim 'Shakes' Mashaba as new coach
Last updated on .From the section Football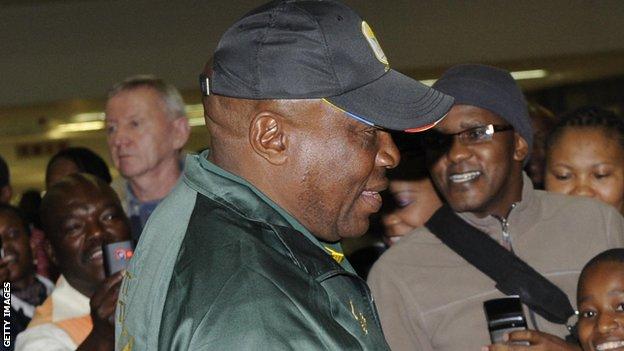 Ephraim Mashaba was re-appointed as coach of South Africa's national team on Saturday, the fourth time he has taken the helm of Bafana Bafana.
Mashaba, more commonly known as 'Shakes', has had two previous caretaker spells with the senior team and was the permanent coach between August 2002 and November 2003.
His most recent role was in charge of the national Under-20s side, and is currently in Mali on a west African tour with the team.
The South African Football Association (Safa) opted for a local coach having looked at a number of other options.
Carlos Queiroz, who led Iran at the World Cup in Brazil, and Stephen Keshi of Nigeria were both linked to the post.
The Dutch duo of Frank Rijkaard and Dick Advocaat were also in the running.
In accepting the position, 63-year-old Mashaba said he was relishing the challenge.
"This is a massive but exciting test. I am elated and ready for the challenge," Mashaba told Safa's website.
"I will do all my best to bring back the winning mentality within Bafana Bafana. With the support of all South Africans, the goal of taking Bafana Bafana back to the top is very achievable.
"The good thing about this job is that I have a clear idea of what I need to do but will first meet the Safa leadership to agree additional performance terms."
Mashaba had a tempestuous relationship with his Safa bosses during his first spell in charge of the side and was sacked after refusing to recall overseas based players Quinton Fortune and Hans Vonk when they asked to be excused from a training camp ahead of the 2004 Africa Cup of Nations.
He was also axed from the bench in the middle of that spell for a high-profile friendly against England in 2003 when he also refused to call on the country's top players in Europe.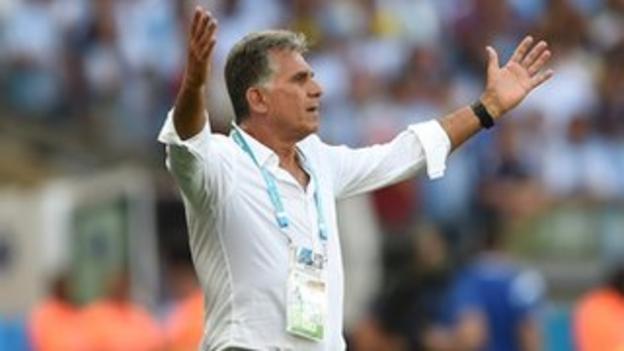 His appointment this time around was met with optimism by Safa's President, Dr Danny Jordaan.
"He has a proven record, is a hard worker and he fulfilled all requirements we were looking for to drive our senior national team back to where we all believe they belong - at the top," said Dr Jordaan.
South Africa have had 17 coaches since their re-admission into international football in 1992 following a Fifa ban due to Apartheid, though five of those, including Mashaba, have had more than one go in the hot-seat.
The fortunes of the national side have been in steady decline since their high of winning the 1996 Africa Cup of Nations, and became the only host nation to exit the World Cup in the first round in 2010.
South Africa are currently ranked 14 in Africa and 66 in the world and poor tournament results cost Igesund his job.
Hosts South Africa were eliminated in the 2013 Africa Cup of Nations quarter-finals after losing a penalty shootout against Mali.
They also failed to qualify for the 2014 World Cup, surprisingly finishing second behind lowest seeds Ethiopia in a mini-league.
The first task for Mashaba will be to qualify for the 2015 Cup of Nations in Morocco by achieving a top-two finish in a group including Nigeria, Sudan and Congo Brazzaville or Rwanda.
Bafana Bafana have never beaten Nigeria in a competitive match and often struggled in the past against the combative Congolese.
South Africa face Sudan (away) and Nigeria (home) in September, Congo or Rwanda away and home in October and Sudan (home) and Nigeria (away) in November.