Exeter's City's Danny Coles defends online 'banter'
Last updated on .From the section Exeter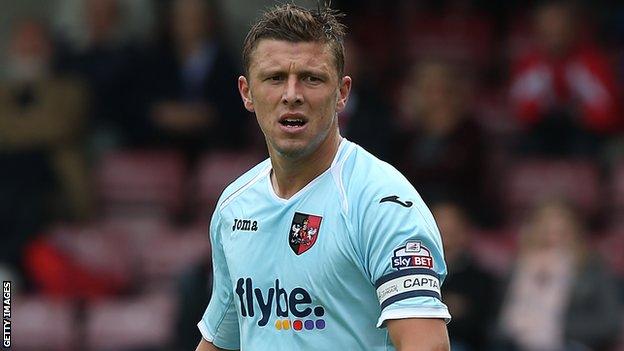 Exeter City defender Danny Coles says his comment on a social media photo put up by Jimmy Keohane was just "banter" between team-mates.
The club put out a statement after Coles implied an offensive word on Keohane's Instagram account.
The 32-year-old was earlier in July after using offensive language towards .
"It was a complete bit of banter between two friends," Coles said.
"If I'm having a bit of banter with one of my mates which I think is not getting publically seen, I don't see it as a problem," he told BBC Radio Devon while on
"Jimmy's not got a problem with it, no-one else in the photos has got a problem with it, so I don't see why anyone else should."
Commenting for the first time since being disciplined, Coles admitted that he is changing the way he behaves on social media.
"I made a big mistake on the Twitter one and I apologised for that.
"That was to a supporter which I deeply regret doing.
"The banter in the football industry is different to the regular world and I genuinely didn't think anyone else was going to see it.
"'I'm sure a lot of people will jump on the bandwagon and want to get me punished for it, but if that was the case it would be harsh to be honest with you.
"I'll watch my language from now on and be very careful with what I say, even to friends."