Louis Van Gaal orders Man Utd to speak English - Juan Mata
By Simon Stone
BBC Sport, in Denver, USA
Last updated on .From the section Football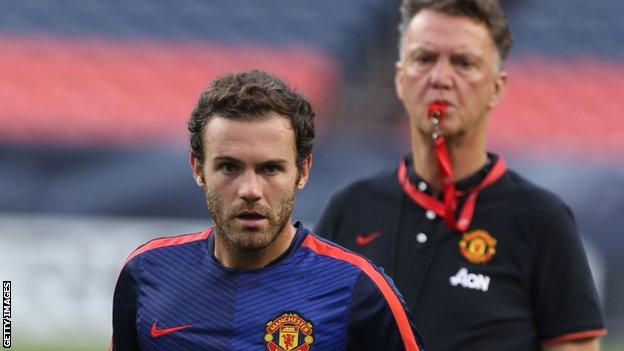 Manchester United's record signing Juan Mata has revealed new manager Louis van Gaal has told his players they must communicate in English.
However, on the pitch, speaking in Spanish has been ruled out.
"We speak in English," Mata told BBC Sport. "The manager says we have to speak in English."
It is not the only change Van Gaal has made since his arrival at United earlier this month.
The Netherlands World Cup coach has also decided his team is going to play with wing-backs during the coming campaign.
It worked to positive effect during the World Cup, when Van Gaal guided his team to third spot.
And at Old Trafford, the aim is to get the most from his key attacking trio of Mata, Wayne Rooney and Robin van Persie, by placing the responsibility for defending in wide positions to his two wing-backs.
Mata added: "The truth is we are trying to play with a new system. I don't know how much time it takes - maybe one month or two but the most important thing is to believe in what we do.
"For me personally if I play behind the two strikers it's a good position. I can look for the ball. I feel comfortable in this role.
"This system can be very dangerous. But you have to communicate and co-ordinate."
Mata is in a similar position to last season, when a big-name manager took over at Chelsea.
The 26-year-old did not find favour with Jose Mourinho and after starting just 11 Premier League games in the first half of the season, opted to join United in a £37.1m deal.
Now it is Van Gaal that must be convinced.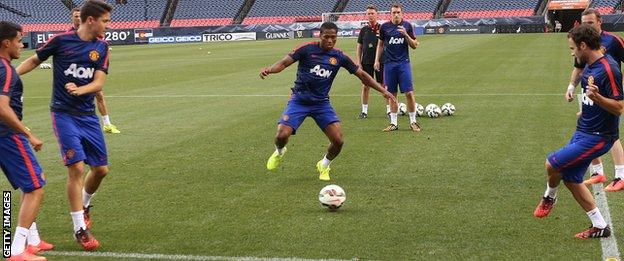 The Dutchman has already mentioned the large amount of 'number 10s' in his squad, so it would be no surprise if one or more failed to survive the August transfer deadline.
Apart from the grief Van Gaal's team inflicted upon Spain with that 5-1 hammering in Brazil, Mata has been hugely impressed with the 62-year-old.
"He is very honest," said the former Valencia player.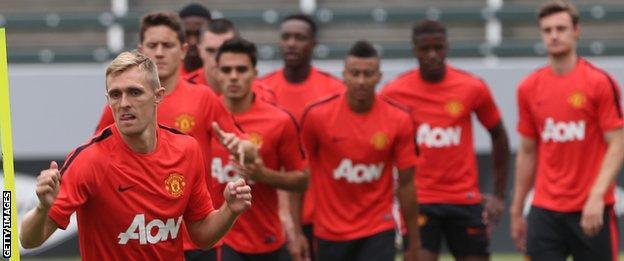 "He is straight as he speaks to everyone to their face. That is the perfect way to do it."
And Van Gaal explained that he is seeking to impose his own style and methods on his squad.
"The most important difference is that I am training the players, not in their legs but in the brain power," he said.
"With my direct character, I say things as they are. It can be good and it can also be worse."
"There are many rules the players have to fulfil outside the pitch. That is also a structure. All the players know it is part of the job."