Greg Dyke: FA Council overwhelmingly male & white

By Richard Conway
BBC Radio 5 live sports news correspondent
Last updated on .From the section Football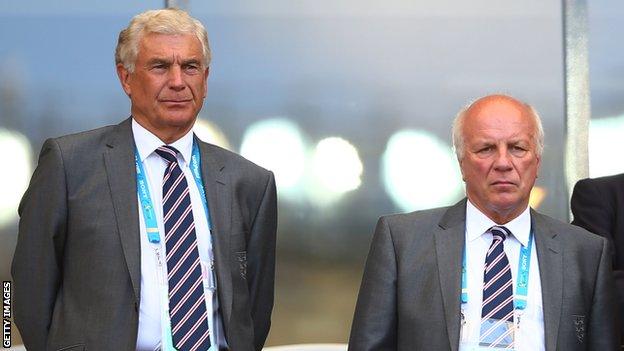 The Football Association chairman Greg Dyke believes the governing body is "overwhelmingly male and white" and has warned it could become irrelevant unless tackled.
The FA Council is made up of approximately 120 members drawn from the professional and amateur ranks of the game and helps decide major policy issues for the organisation.
"If you look at who's supporting, who's playing football, and then you look at the FA Council - it doesn't represent them," Dyke said.
"It's still overwhelmingly male, overwhelmingly white in a world that isn't overwhelmingly male and white, and somehow that has to be changed.
"We have to try and change it but we're not alone, supporters have got to try and change it as well."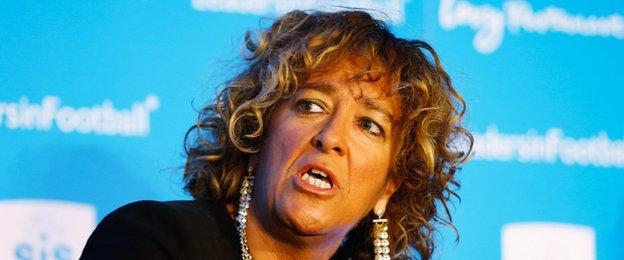 Dyke's message has echoes of his words during his time as director-general of the BBC in 2001 when he stated that the broadcaster was "hideously white".
It also comes after Heather Rabbatts, an independent member of the FA board, complained last year about the lack of diversity on the FA chairman's flagship England commission.
In a pre-recorded video message to the joint annual meeting of the Football Supporters Federation and Supporters Direct, Dyke added: "We've got to look at how we involve the population of 21st Century England and the mix it's got.
"If we just carry on like this - old, white males - we're going to be increasingly irrelevant."
The FSF campaigns on behalf of football fans, and its chairman Malcolm Clarke sits on the FA Council as the fans' representative.
Clarke declined to comment on Dyke's claims. However, an FSF spokesman said: "It is important that the FA Council is an influential voice but it is important that it is representative. Football fans are a diverse group and the FA Council should reflect that."
Manchester FA's Frank Hannah, 89, who sits on the FA Council, believes things are changing - but added that the issue is at county FA level who elect members to the council.
"It's out of Mr Dyke's control to be quite truthful," he told BBC Sport. "Each county FA elects its own representative and the people who are there are there because they have been voted for. It is changing and there are more women involved. I think Mr Dyke was expressing his own opinion."
Dyke also defended his England commission and said that something must be done to increase the talent pool in English football.
The commission announced a four-point plan to boost English football in May, which called for a new tier within the Football League to accommodate Premier League B teams and a reduction in non-home-grown players in Premier League squads.