Cardiff City: Kenwyne Jones 'definitely' part of Solskjaer's plans
Last updated on .From the section Cardiff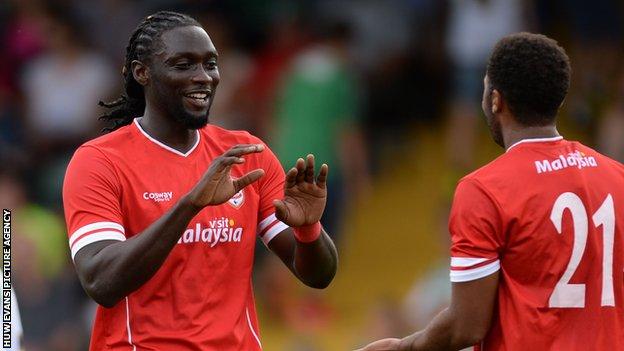 Cardiff boss Ole Gunnar Solskjaer says striker Kenwyne Jones is "definitely" part of his plans.
Jones, 29, joined the Bluebirds from Stoke City in January, in a swap deal for Peter Odemwingie but scored just once in 11 Premier League appearances for Cardiff.
Solskjaer has been impressed with the Trinidad and Tobago target man during pre-season.
"Kenwyne on song is a fantastic card to play for me," said Solskjaer.
"He's a different type of striker to the [other] ones we've got."
Jones scored his only goal for Cardiff on his debut, in the 2-1 win over Norwich in February 2014.
But he struggled with form and fitness for the remainder of the season as the Welsh club were relegated from the top flight.
Solskjaer says the former Southampton forward has returned for training ahead of the new season determined to do well.
Jones scored two goals in the pre-season 4-1 win against Yeovil Town on Sunday, 27 July.
"He's worked really hard," said Solskjaer.
"He's come back with a great attitude and it's great to see him get some reward by scoring goals.
"But he still needs to keep working."
Former Manchester United striker Solskjaer says Jones will offer Cardiff City something different during their forthcoming Championship campaign.
"Sometimes if we need to go more direct he can hold [the ball] it up for you," said Solskjaer.
"He can also wins lots of things in the air."