Man Utd manager Louis van Gaal to bide time over new faces
By Simon Stone
BBC Sport in Washington
Last updated on .From the section Man Utd
Louis van Gaal will not rush to make signings despite being forced to employ a wing-back system in his opening games as Manchester United boss.
The Dutchman used a 3-4-1-2 formation in tour games against Los Angeles Galaxy and Roma and has said the squad in its current state "is not balanced".
Speaking to BBC Sport, Van Gaal said: "I have to choose this system."
But the 62-year-old warned: "I don't buy players for buying players. I buy players to improve my selection."
One of Van Gaal's challenges in his new role is to get the best out of attackers Wayne Rooney, Juan Mata and Robin van Persie, three players seen as crucial to their hopes of improving on last season's seventh-place Premier League finish under former manager David Moyes.
"That is one argument why I chose this system. I can play them all - that is important," Van Gaal added. "With the quality of the squad I choose this system.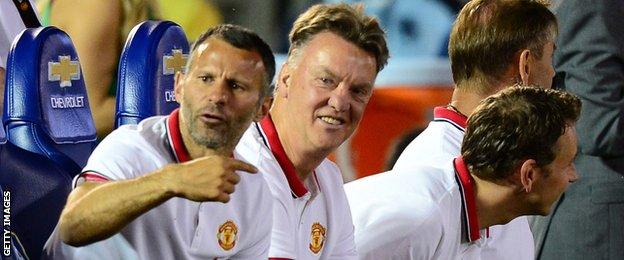 "But don't forget all the others. Javier Hernandez can play in the striker's position, Danny Welbeck can, maybe Will Keane also. He can develop himself.
"Rooney can play at 10 and nine. He said to me he can also play seven and 11. But I like him more at nine or 10."
In the 3-4-1-2 formation, two strikers are supported by an attacking midfielder, with a two-man central midfield flanked by two wing-backs ahead of a three-man central defence.
Van Gaal used the same tactic at the 2014 Fifa World Cup to steer the Netherlands to third place in Brazil.
In the 7-0 win over Galaxy, the wing-back roles were occupied by Antonio Valencia and new £27m signing Luke Shaw, with Rafael and Reece James coming on for the pair after the break.
Against Roma, Ashley Young was employed on the right after coming on for Valencia, while James and Shaw again shared the berth on the left.
Shaw is doing extra training to increase his fitness, with Van Gaal concerned that the left-back is not up to speed after his World Cup trip.
"He needs to be fit and he is not very fit," Van Gaal said.
"Therefore he cannot perform what I want so first he has to be fit and has to train individually.
"I have spoken with him and we have made the programme. He agreed with me. We will have to see how long it takes [for him to get fit]."
Van Gaal is prepared to give his existing players a chance in the new system but admitted new additions could be brought in were they to bring greater balance to the side.
He has spent £56m on full-back Shaw and midfielder Ander Herrera since becoming United's manager in the summer but Ed Woodward, the club's executive vice-chairman, says there is more money available.
Van Gaal added: "We have to see if the selection is in balance and how we can improve it. Not only by training but also transfers.
"I am always looking first to my players because the players are the most important thing in the club."
The former Ajax, Barcelona and Bayern Munich boss also rejected the suggestion he was benefiting from following Moyes rather than the legendary Sir Alex Ferguson.
He said: "I don't agree. I had to follow Bobby Robson at Barcelona. In that year he won three titles. I had to succeed him. I don't think that is a problem.
"When there is success, you also have a very good squad. Now I have to follow and the squad was broken, I think. It is not in balance, I have already said that.
"It is more difficult to succeed in a difficult situation than a fantastic situation."
Van Gaal added that whoever he chooses as his captain "more or less needs to have the same philosophy" as himself, adding "it's not so simple to choose and that's why I need time to do that".
He also admitted the decision to join United was "not an instant yes".
Van Gaal's major titles
Domestic leagues: Ajax (1993-94, 1994-95, 1995-96), Barcelona (1997-98, 1998-99), AZ Alkmaar (2008-09), Bayern Munich (2009-10)
Champions League: Ajax (1994-95)
Uefa Cup: Ajax (1991-92)
He added: "At that time I had other offers also. I had to think about it but at the end I chose Manchester."
In a wide-ranging interview, Van Gaal said that the mind games employed by some managers in the Premier League will not concern him when the season begins.
"For me, it is not so interesting," he said. "I have to manage my club. That is already difficult enough. I am not concerned with other clubs or other managers."
He added: "I am a human being who loves football. I have always looked to matches in England. I like the atmosphere of the English games. Because of that it is a challenge for me.
"That I can work for the biggest club in England and the world makes it more of a challenge for me."