Women's Super League: Bristol unaware of Notts County issue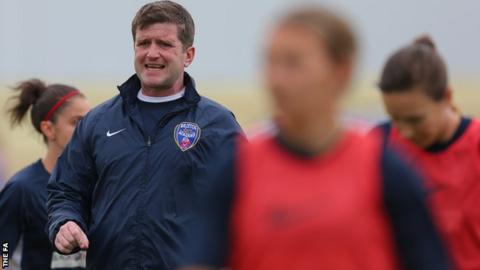 Bristol boss Dave Edmondson says he was surprised by the cancellation of their game at Notts County Ladies, which saw his side handed three points.
The Women's Super League clash was scheduled for 29 June but with Notts' Meadow Lane ground not fit for use, an alternative date and venue was needed.
The Football Association gave Bristol the win after their opponents allegedly failed to make the arrangements.
Edmondson told BBC Sport: "We were expecting to play."
He continued: "The first we heard about it was when Notts posted it on their website.
"But I'm not privy to the exact rules. If it needs to be replayed then we'll replay it. If it isn't, it's a shame but we'll have to go with what decision is made."
WSL1 standings
Played
Goal difference
Points
1
Birmingham City
8
7
18
2
Chelsea
8
5
17
3
Liverpool
8
2
12
4
Manchester City
8
-1
12
5
Arsenal
8
-4
8
6
Notts County
7
0
7
7
Bristol Academy
7
-2
7
8
Everton
8
-7
3
Notts County Ladies were given 14 days to appeal the decision and the club said they will be looking to overturn it.
They claim they found an alternative venue at a non-league stadium in the local area but it was not approved by the FA.
Last year's runners-up Bristol are currently seventh in the WSL1 table on seven points, while Notts are one place ahead on goal difference.
Although the issue has yet to be resolved, Edmondson insists his side will not be affected by it.
"When it's sorted it's sorted. It's not like they'll phone us and say 'you're playing Notts tomorrow'," he added.
"We'll plan with what we've got. It wasn't us that asked for the three points - we were fully expecting to play it.
"But we'll be looking for three points out of it either way."