Man Utd: Louis van Gaal & David Moyes - how they differ
By Simon Stone in Los Angeles
BBC Sport
Last updated on .From the section Football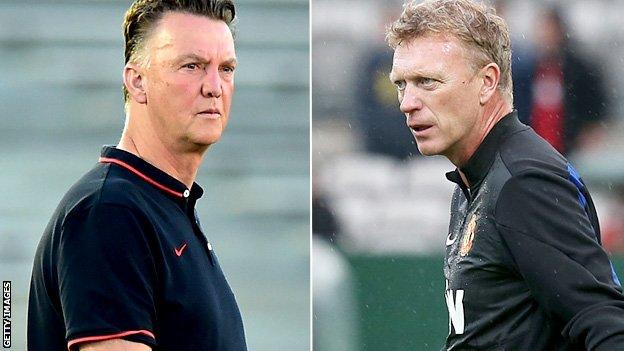 It is the beach trips that sum up the difference between Louis van Gaal and David Moyes.
For Moyes, a training session this time last year on Sydney's Bondi Beach midway through a week-long pre-season tour ended with Manchester United seeking refuge after word spread of United's presence on one of the world's most famous beaches. It became impossible for the session to continue.
For his replacement Van Gaal, it was a means to an end, directing the team bus half an hour out of its way - towards Santa Monica instead of straight to the hotel - after a 12-hour flight from Manchester to Los Angeles. This, he reasoned, would get the lactic acid out of his players' legs and ensure they were better prepared for the following day's training.
Two men, two beaches, two very different outcomes.
One seemed to underestimate the scale of interest in the club he had been appointed to manage, not thinking that the team's presence would attract scores of onlookers. The other was clear in his vision - he set out to accomplish a task and did exactly that.
It is obvious there are aspects of Manchester United's pre-season tour of the United States that Van Gaal, vastly experienced at the highest level following stints in charge of Ajax, Barcelona, Bayern Munich and the Netherlands, would never have sanctioned had he been in place when they were arranged.
"You have to travel distances, you have to fly a lot, you also have jetlag - that is not very positive for a good preparation," he said.
Assistant manager Ryan Giggs signed off the tour schedule, although the Welshman did not arrange it.
Even the daily trip from their Beverly Hills hotel to the LA Galaxy training base 25 miles away in Carson took an hour.
Once there, the facilities were excellent, but then so were the ones Real Madrid used at the University of California - and that was only a mile from Beverly Hills, where the European champions were also staying. Distances are important in Los Angeles, where traffic is so dense.
The excessive travelling lay at the heart of Van Gaal's criticism of the club's touring schedule, which he voiced in public twice within a week of reporting for his first day as Manchester United manager on 16 July.
On neither occasion did he inform the man responsible for appointing him, executive vice-chairman Ed Woodward, or his commercial team that he was about to air his grievances in a forum that would ensure they were transmitted around the world.
Moyes, who sometimes appeared ill at ease in front of the cameras, tended to confide in a select few. Van Gaal, knowing the likely impact, told everyone.
No-one can be sure how the next 10 months will pan out for the 62-year-old, but there is a certainty about the Dutchman, an inner confidence which gives rise to renewed optimism among fans who have just witnessed United's worst league campaign in 24 years.
"We need to have a strong manager to have a strong club," said fan Paul Brane, from Stevenage - one of the hardy souls who, recognising there will be no European football at Old Trafford in the coming campaign, travelled to Denver to see his team overcome AS Roma in the second match of the tour.
"Twelve months ago I was prepared to give David Moyes every chance. But, looking back, he should never have been appointed.
"He is a decent man by all accounts, but as manager of Manchester United, he was clearly out of his depth."
Van Gaal is not. He has stated his opinion that Manchester United are the biggest club in the world.
However, as he also points out, he has been in charge of "the number one side in Holland" - Ajax, "the number one side in Spain" - Barcelona, and "the number one side in Germany" - Bayern Munich. And that is without mentioning his two stints in charge of the Netherlands whom he led to third place at the 2014 World Cup in Brazil.
There is an aura about him that exudes authority.
As is normal in such situations, the non-playing members of United's squad did a running session after the 3-2 win over AS Roma.
Under the watchful eye of fitness coach Tony Strudwick, a group made up of Anders Lindegaard, Darren Fletcher, Javier Hernandez and Wilfried Zaha pushed themselves through a series of shuttle runs and sprints.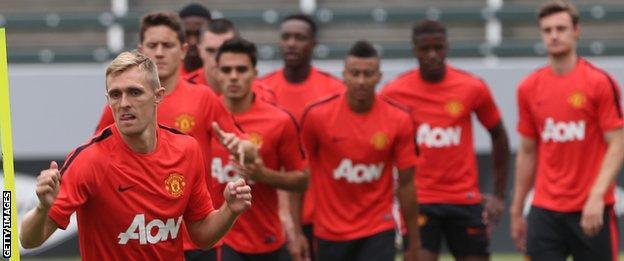 Within half an hour, they were heading back to the changing rooms for a shower. A couple of minutes later they were out again, sent to the gym for more work that lasted an additional 15 minutes.
Those concerned were clearly surprised at this addition to their workload. At least one looked annoyed, but no-one challenged Van Gaal's authority.
"With my direct character, I say things as they are," he said. "It can be good and it can also be worse."
United's players have already had an insight into their manager's approach. Though a joviality is often present, he rounds on anyone not carrying out their duties to his satisfaction.
In an open training session ahead of that first game in LA, Chris Smalling and Fletcher were among those singled out for the most forceful of demands - why, Van Gaal wanted to know, were they not looking at the ball when executing their shooting practice?
And goalkeeper Ben Amos was unlikely to be feeling good about himself in the dressing room following the Roma game.
He had just suffered the embarrassment of conceding a goal from 60 yards, struck by Miralem Pjanic, that went straight over his head and into the net without bouncing.
If he was looking for a lift from his manager, he did not get it.
"In four seconds I can run 50 metres, so what do you think?" said Van Gaal when asked if Amos was at fault.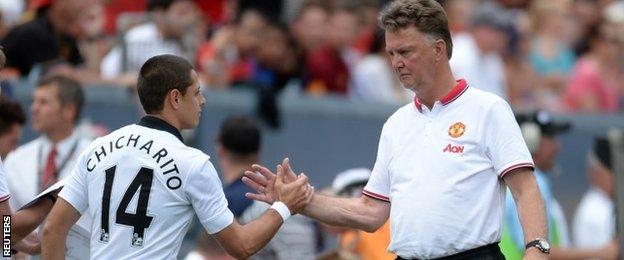 That no-nonsense approach will help him in one aspect of the job - reducing the size of a squad that, by common consensus at United, was too big last season.
There have been departures - Nemanja Vidic, Rio Ferdinand, Ryan Giggs and Patrice Evra among the most notable - but this year there are no midweek Champions League nights to offer Van Gaal scope to switch his team around.
He has said he will spend a couple of weeks assessing his squad before deciding who he needs - and who can be jettisoned.
It is evident he has too many forwards, and Shinji Kagawa and Javier Hernandez would seem most vulnerable.
"We have four number 10s, so it is not balanced in my eyes," he said last week.
His midfield and central defence have been questioned. New signing Luke Shaw has been training on his own because Van Gaal thinks the 19-year-old is not fit enough.
And what of Marouane Fellaini, Moyes' only signing of last summer? A move to Napoli has been suggested for the Belgian, although United sources say there has been no contact.
Van Gaal, who is unlikely to get his way over his dislike of long-distance travelling for tours because of the commercial benefits to the club, will be allowed to do it his way when it comes to the playing squad.
One aspect of managing Manchester United which undermined Moyes towards the end of his time at Old Trafford, was the fact his words tended to be dissected to highlight signs of weakness.
There was scorn from some fans when they heard the Scot admit old rivals Liverpool were favourites for a game at Old Trafford. It was the kind of statement that might even be true, but saying it seemed to be a step too far for the supporters.
By the end, they were sick of hearing United would "try their best" to win matches. "What was all that about?" said Brane. "Everton might try. Manchester United don't try, they do it."
Van Gaal should have no such problems. If he suffers from insecurity, he does a pretty good job of disguising it.
Before the World Cup, as speculation about his appointment grew, he called one English reporter "stupid" for asking what he felt was a ridiculous question.
And in his first United news conference he cut down another in equally forthright manner for putting forward a question he believed had already been answered.
"You know that, why do you ask?" came the reply.
But perhaps the most telling difference between Van Gaal and Moyes was hidden away in the small print.
A 16-minute interview he gave to a couple of members of the broadcast media ran to 1,180 words.
The word "try" was not used once.