Stephen Keshi: Nigeria close to new deal with the coach
By Oluwashina Okeleji
BBC Sport
Last updated on .From the section Football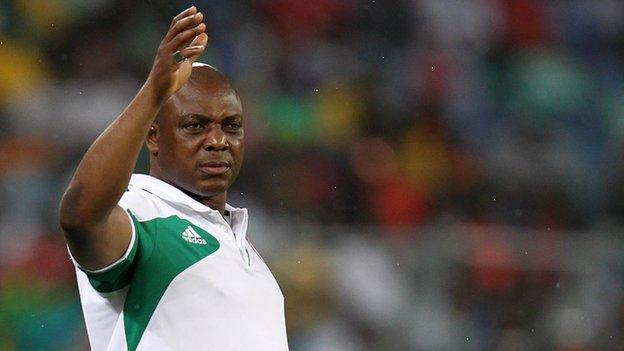 The Nigeria Football Federation (NFF) has revealed it is close to agreeing a new contract for Stephen Keshi to return as national coach.
Initially the NFF and sports ministry appeared reluctant to negotiate a new, improved contract for Keshi but in the last week all parties have shown they want to reach an agreement.
And the NFF board has approved acting president Mike Umeh's call for an emergency meeting to ensure Keshi's re-engagement "within the shortest possible time".
BBC Sport understands the coach will be rewarded with an improved contract worth $43,250 a month, up from his previous $30,900.
The new deal falls short of Keshi's expectations but he is believed to be ready to commit to a three-year deal.
His previous reign as coach was littered with problems over money as he experienced a number of delays in receiving his salary, and he also struggled for control over team selection.
The NFF also failed to provide Keshi with an official car and accommodation as stipulated in his previous three-year contract.
The former Nigeria captain was also burdened with the responsibility of paying one of his assistants from his monthly-salary after the NFF refused to approve the assistant's appointment.
These are some of the issues Keshi wants ironed out before putting pen to paper on a new contract.
All being agreed, Keshi's immediate assignment would be the 2015 Africa Cup of Nations qualifiers, which begin with a home game for Nigeria on 6 September.
The defending champions are in a qualifying group with South Africa, Sudan and either Congo or Rwanda with the top two advancing to January's Nations Cup in Morocco.
Meanwhile, the NFF said that an extraordinary congress will no longer take place on Thursday as planned because of "unforeseen circumstances" and promised a new date for the congress.
During Wednesday's executive committee meeting Musa Amadu was confirmed as NFF general secretary, while changes were made to the electoral and appeal committees.
The elective congress will take place on 26 August in Abuja.