QPR 0-0 Southend: Rangers held at Roots Hall
Last updated on .From the section Football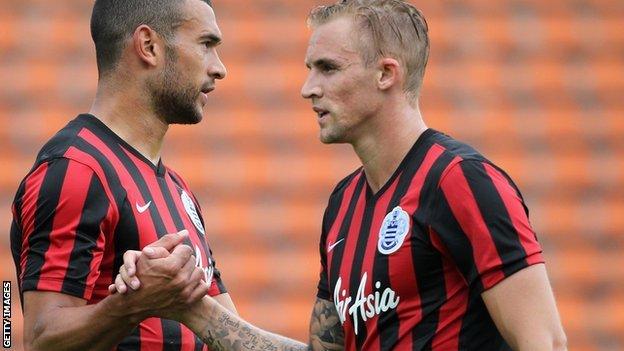 Former West Ham United midfielder Jack Collison played 90 minutes on trial for QPR in their 0-0 draw at Southend.
Collison left Upton Park at the end of last season after being sidelined by a persistent knee injury, but impressed during the friendly at Roots Hall.
QPR lined-up in a 3-5-2 with wingers Matt Phillips and Michael Petrasso starting in a makeshift forward line.
South Korean left-back Yun Suk-Young made his first appearance for the Hoops since returning from the World Cup.
QPR: Murphy (Lumley 46), Harriman, Onuoha, Hill, Donaldson (Kpekawa 79), Suk-Young (Sutherland 46), Collison, Faurlin, Petrasso (Comley 64), Phillips (Sendles-White 62), Doughty.
Southend: Bentley (T. Smith), Fagan (Deegan), Thompson, Ibenfeldt, Richards-Everton (Prosser), Coker (Jordan Williams), Clifford (Jenkins), Atkinson, Guyonnet (Cregg), Weston (Chedozie), Corr (Brown).