Celtic: Ronny Deila can bounce back says Neil Lennon
Last updated on .From the section Football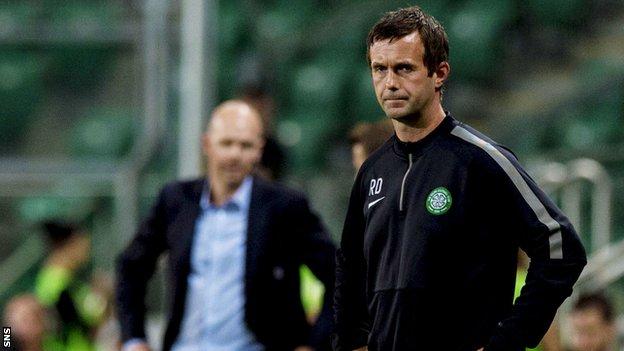 Former Celtic manager Neil Lennon has told Ronny Deila to bounce back the same way he did, in the wake of the 4-1 defeat to Legia Warsaw.
Celtic's Champions League dreams hang by a thread after the Norwegian lost his first match since taking over.
"My European adventure wasn't great to start with either," said Lennon.
"I remember losing 4-0 in Utrecht and getting knocked out. It's going to take time, there's always a transitional period at a club like Celtic."
Much of the criticism for Wednesday night's first-leg qualifying defeat in Poland has been aimed at the board, with fans unhappy at the lack of new signings.
"Ronny's not really had enough time to work out what his best team is yet," Lennon told BBC Scotland. "They're not out of it by any means but they've got a mountain to climb.
"Celtic at home, I know it's Murrayfield but still, anything could happen.
"It's always good to freshen things up and there's no better time to do it than this time of year. The important thing is that they can hold on to some players as well, but if there's no Champions League football that's going to be difficult."
Lennon, who left Celtic at the start of the summer after four years in charge, added: "I'm really enjoying the break, I haven't missed it at all which has surprised me because it was a part of my life for so long.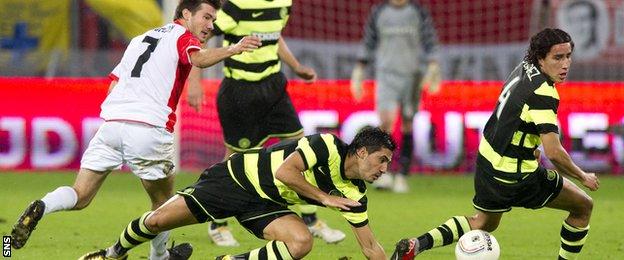 "I'm getting a bit of my life back. I'm waking up in the morning and thinking I can do things I haven't done for 20 years.
"For the first three-and-a-half years it was alright. I just didn't really enjoy the last half a season, it was hard to put my finger on it.
"For me, I maybe need to look at balancing things better when I take on another job, I gave the Celtic job everything. I just had the work and very little life."
Lennon was speaking at the lawn bowls, and has been an avid viewer of the Commonwealth Games in his adopted home city.
"It's wonderful for the city and great for the country as well," he said. "It's shown Glasgow and Scotland up in a fantastic light.
"I just hope now that the legacy lives on. I've seen so many people out running and cycling in the city, far more than you would normally do, and I just hope it has an influence on not just the current generation, but the younger ones coming through as well.
"There's no doubt football is the main sport in Scotland but there's so many more sports that have come to the fore thanks to the Games."