Pre-season nightmares: Punch-ups, pool drills & sweat boxes
Last updated on .From the section Football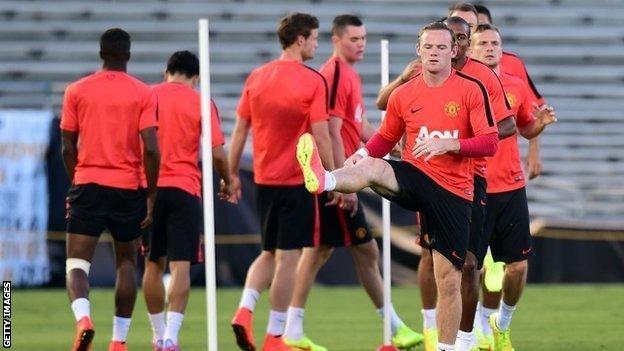 Most professional players are already a month into pre-season, with the Championship, Football League and Scottish leagues resuming this weekend, and the Premier League following a week later.
Traditionally it is a time for shedding any excess weight accrued from over-indulgence during the summer break, and building up fitness to survive the gruelling 10-month season ahead.
So what different methods have managers adopted to get their players up to speed for the new season?
BBC Sport consulted five seasoned pros, past and present, to discover some of the more unorthodox ones, and also what constituted their 'nightmare' pre-season routine.
Team 'bonding' with the Army - "utter chaos"
Nigel Winterburn went through 22 pre-seasons at clubs including Wimbledon, Arsenal and West Ham. He retired at the age of 39 in 2003.
Pre-season is about survival. Getting from day one to week six can be monotonous and it is the thought of football at the end of it that keeps you motivated.
Back in 1981, starting my career at Birmingham, we did not see a ball for a week. Runs of 25 to 30 minutes were a feature - and they are the last thing a player wants.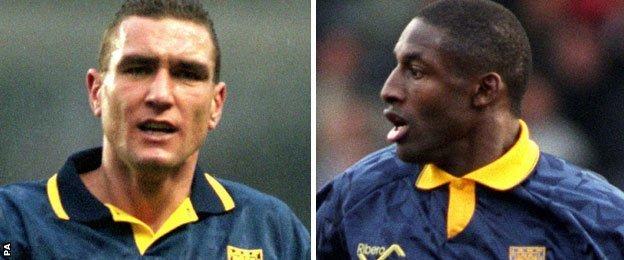 At Wimbledon we trained with the Army several times and, on one occasion, had to work together and attack a fort. The Army had a captive and we, as a group, had to camp overnight and attack in the morning.
It was supposed to be team bonding but I will openly say it descended into utter chaos. It was by far and away the craziest thing I ever faced in pre-season.
Punches were thrown and it got out of hand. It was amusing, but I stayed right at the back. We had John Fashanu and Vinnie Jones with us so we stood a chance.
I somehow doubt the players of today would have to do the same, but then the evolution of techniques was for me the most interesting part of pre-season during my career.
Winterburn's nightmare session, taken by George Graham
1.
On a 400m track, sprint 100m, then jog 300m.
2.
On lap two, sprint 200m, jog 200m; lap three is a 300m sprint, 100m jog and on the final lap, you sprint the full 400m.
3.
Then repeat the process but moving down the pyramid. So start with a 400m sprint, then a 300m sprint with 100m jog, etc.
George Graham was quite fitness-based in his approach but when Arsene Wenger came to Arsenal in 1996, I think his first week of pre-season was the easiest of my life. Stretching, jogs, it was straightforward. The players absolutely loved it.
He understood the needs of the individual. For example, if we were doing an 80-yard stride, the older players would be grouped together and only do 60. His sessions were enough to push you but they were fair, and he loved doing power work like jumping and plyometrics (explosive exercises designed to increase speed and power).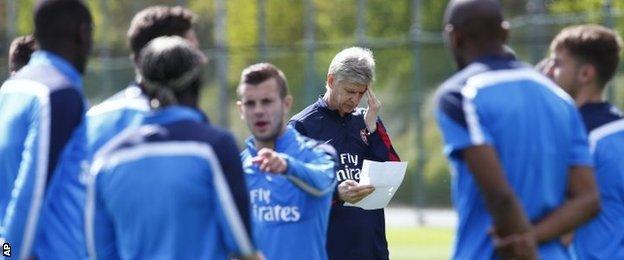 The fact I made it to 39 as a player owed a lot to his understanding, and that of Harry Redknapp, for whom I signed at West Ham when I was 36.
He would let me do my own thing for two days after a game and always ask if I really needed to participate in any running sessions. He respected your experience and as long as you returned a performance, no player could grumble at you.
Bricking it in the swimming pool
Robbie Savage played for seven different clubs including Leicester, Birmingham, Blackburn and Derby in an 18-year career, priding himself on his personal fitness.
Pre-season is the most selfish time of a player's career. You have to be disciplined, determined and do the things that work for you.
I was fit, always at the front on runs and you would get players asking you to slow it down so they don't look bad. But if you cheat, you just end up cheating yourself. Mental strength and determination are vital.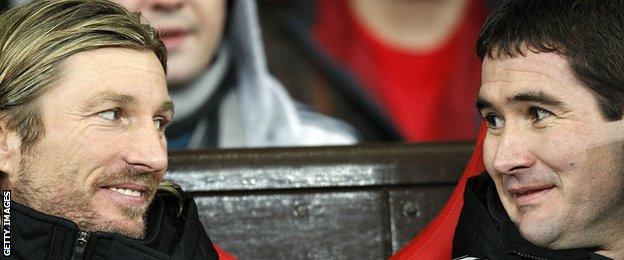 The feeling of waking up in the morning with your body aching and sore was one I loved, and when you found a way to get through the next day's training, you knew you were getting fitter.
There was one thing though I hated and it would make me look for excuses before going in.
At Derby, Nigel Clough was obsessed with us doing swimming sessions in the afternoon. Relays, sprints, you name it. I was always a first pick in pre-season as I was fit, but for this I was last and it was embarrassing; no one wanted to go near me.
One drill saw us having to swim to the bottom of the pool and push a brick along. It would take me 20 minutes just to get to the bottom. I was useless and it was horrendous. Though I will admit it did get us in good condition.
Savage's worst session, taken by Nigel Clough
1. Drop a brick to the bottom of a 25m swimming pool
2. Swim down and push the brick along the bottom of the pool
3. Come back up when you need air and go back under until you have pushed the brick the length of the pool
The whole culture has evolved now and you cannot come back for pre-season out of shape. Players are getting fined if their body fat percentage is too high and ultimately, the competition for a shirt is so fierce.
I trained on holiday during the last three years of my career and players are all doing that now. I'd be wondering when I was on the sand at 6.30am if the guy competing for my shirt was doing the same.
I loved it. It was when the balls came out I struggled.
A week in Spain - without the manager
Former Scotland striker Ian St John spent a decade under the stewardship of Bill Shankly at Liverpool in the 1960s after a move from Motherwell at the age of 23.
Ask any player, particularly of the older generation, what pre-season was like and it was a time you dreaded.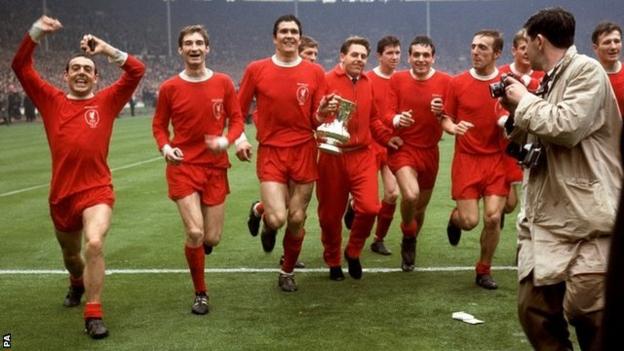 In the years before I arrived at Liverpool, pre-season was a horror show. The players would run from Anfield to the training ground, about three miles, do their session and then run back.
This was an era devoid of the beautiful running shoes of today, so it was little wonder they would all sneak on to buses on the way back. It must have been horrific.
I was lucky. Shankly had been there a year and he had revolutionised things. While other teams were running up sand hills, we had the ball out.
His work was hard; we always felt prepared and his vision, back when it was not customary, meant he made us stay and eat our meals, with focus on diet - he loved it.
At that time, Liverpool paid for everyone to go away on holiday to Spain for a week before pre-season each year. Bob Paisley would be there and we had a great time but Shanks would never come. He hated seeing us enjoying ourselves.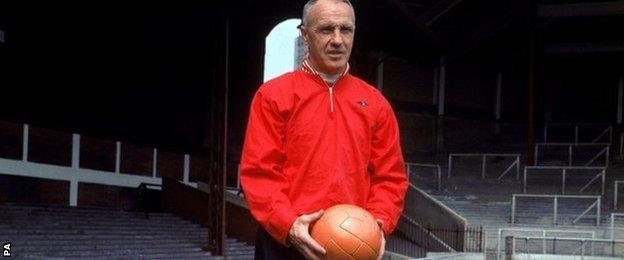 When we got back he would be there waiting - rubbing his hands.
He created the sweat box. Four wooden boards, each the size of a goal and positioned so you stood in the middle of the four with one board either side, one in front and behind.
The idea was two players worked together for three to four minutes. One slammed the ball at a board, the other moved and controlled it for his partner to strike at another board.
It was multi-directional, hectic stuff and you were blowing out of your backside. People would come out of there retching but at least it was ball work.
Dealing with the 'job justifiers'
Danny Mills played for seven different clubs in a 13-year career including spells working with David O'Leary at Leeds United and Sven-Goran Eriksson at Manchester City and England.
By the time I was at Leeds, we had sports scientists, and conditioning coaches - or, as I used to call them, job justifiers.
In their world, what works for you one summer is forbidden practice a year later and as a player that is irritating. If you have experience, you know what you need.
Mills's nightmare session, taken by David O'Leary
1.
Set up a 10-yard-by-10-yard square with four cones numbered one to four.
2.
Sprint to one and back, two and back, three and back and then all the way around.
3.
Repeat this cycle six times.
4.
Then introduce a ball and do it again while dribbling. You are shattered and so your concentration goes, making dribbling very difficult.
It was as if they came up with something to justify their jobs. I would have a laugh with them, but the harder I work, the fitter I get? Wow! Really? What a strange phenomenon that is!
I disliked ball exercises in pre-season because when your legs are shot to pieces, you show fatigue and concentration levels suffer. Try running with a ball when your concentration is gone.
Because I was a player of what I would describe as limited ability, I had to be very, very fit in order to compete. I had three days off after each season and then started again.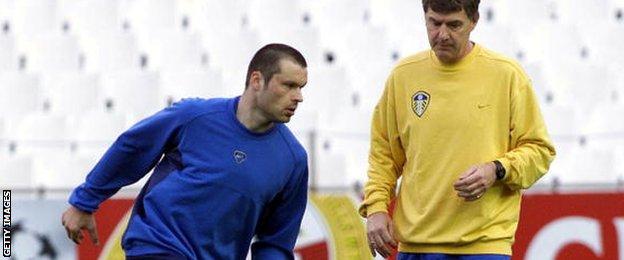 In contrast, and he will know this himself, my old Leeds team-mate Mark Viduka was the worst player I ever saw in pre-season, and in training in general.
I remember him being lapped on a run around the training ground at Thorp Arch.
He was one of the best players I ever played with but was not built for running. Different people have different skills and David O'Leary let him get on with it.
To be a footballer, the range you need is huge - you have got to have the stamina in games but you need to be able to sprint too. You need to be strong and powerful but also light on your feet and able to twist and turn. You cannot replicate football fitness.
Mind over matter - visualise yourself as a rhino
James Beattie's ongoing playing career took a twist in 2012 when he became player-manager at League Two Accrington Stanley, his eighth different club, including Southampton and Everton.
I tell my players 'you never know which game is the biggest of your life'. It could be in training with someone watching or on a weekend. The important thing is you're ready, physically and mentally.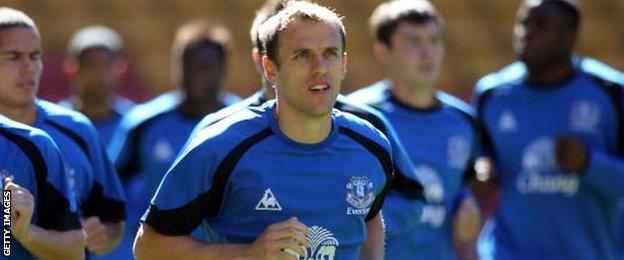 I would stand in the tunnel before a game and stare at players. I'd think to myself: 'I'm going to destroy you. You have absolutely nothing for me.' And I was in that confident mood because I knew I had done the work.
Having reached number two in the country as a teenage swimmer, I enjoyed the challenge of keeping fit and mixed it with visualisation techniques to get my mind right.
Beattie's nightmare session, taken by ex-Saints boss Gordon Strachan
1.
Partner up and one of you dribbles the ball across the field and back again to your partner, who does the same.
2.
When he returns, you go again but this time dribble it across the field and back twice.
3.
Continue this process until you reach a point where you are dribbling the width of the pitch and back six times.
A sports psychologist I once worked with laughed at how visual I was in my thinking. He was in hysterics that I admitted I've imagined being a rhino before I went on to the pitch so I could just plough through everyone.
I'm big on visualisation with my players now, but the biggest thing I took from the better managers I worked with was their willingness to tailor plans for each individual.
Phil Neville, for example, hated doing running sessions in pre-season at Everton. He absolutely detested them but the things he could do for the team I've never seen elsewhere.
That's why I'm so big on individual programmes. They allow me to manage fatigue levels better.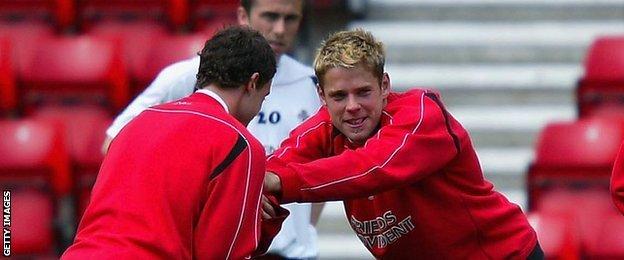 As a manager I've not yet presided over a soft tissue injury, which I'm proud of, and I just talk to the players to see where their levels are at. You can quickly tell when they are pulling the wool over your eyes.
The main difference at this level is the decision-making. At the top, players solve problems on the field more quickly. The fitness levels are not too dissimilar and that is why, for me, the mental aspect is so crucial.
Sports science and fitness may make that 3-4% difference, but lose a player's mind and 50% of him may disappear.