Gary Lineker: Fifa corruption allegations are 'nauseating'
Last updated on .From the section Football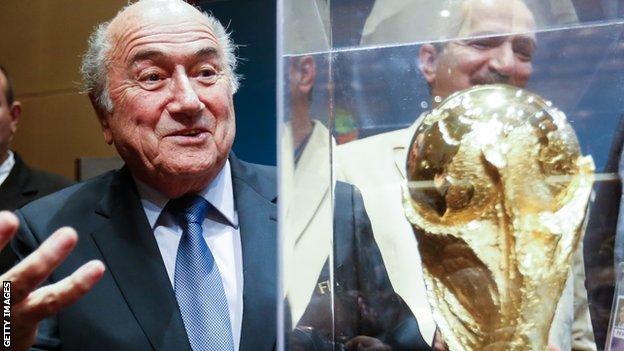 Ex-England striker Gary Lineker says corruption allegations around Fifa are "nauseating", and has also criticised the role of its president Sepp Blatter.
"It makes you feel sick, the whole Fifa thing, the corruption at the top level is nauseating," said the BBC presenter.
"Sepp Blatter has run it like a dictatorship for so long and he comes out with so much nonsense."
A Fifa spokesman told the BBC the world football governing body had "no comment to make", adding: "The bidding process for the 2018 and 2022 World Cups is currently being investigated by the Fifa Ethics Committee."
The Qatar 2022 bid committee, which finds itself at the centre of corruption allegations, has denied any wrongdoing in the bidding process.
Blatter says allegations surrounding the 2022 bid are motivated by "discrimination and racism" towards Qatar.
Lawyer Michael Garcia, leading the investigation for Fifa, expects to deliver his report on the case in the first week of September.
However several members of the 24-strong Fifa committee which chose Qatar have since left their posts amid corruption allegations.
Qatar's former Fifa vice-president, Mohamed bin Hammam, was banned from football in 2011 for offering bribes; Trinidad official Jack Warner resigned while under investigation for bribery while Nigeria's Amos Adamu, and Reynald Temarii of Tahiti were suspended after trying to sell votes.
Meanwhile, former Concacaf president Chuck Blazer stood down over corruption allegations; and South American football president Nicolas Leoz resigned on "health and personal" grounds a week before a Fifa ethics report accused him, Fifa honorary president Joao Havelange and Brazil's Ricardo Teixeira, of accepting bribes.
Match of the Day presenter Lineker, 53, is England's second-highest goalscorer, with 48 goals in 80 appearances.
The former Leicester, Everton, Barcelona and Tottenham striker was part of England's bid team ahead of the draw for the 2018 and 2022 tournaments in December 2010, and revealed that even before the announcement was made there was a sense of fighting a losing battle.
England lost out to Russia in the race for 2018, while Qatar was a surprise choice to stage the 2022 edition.
Speaking to GQ magazine, Lineker added: "You have to be careful what you say, but the corruption is just... yuk.
"I was with David Beckham having a burger the night before the Qatar decision. We were out trying to get support; Prince William and David Cameron were out there too, and I said to Becks, 'We are the only country doing this. The whole thing smells; it is a done deal'."
The former England striker, the leading scorer at the 1986 World Cup, added: "It is ludicrous. I am not against it going to different parts of the world, but you'd have thought they might have known it would be very hot in summer [in Qatar]."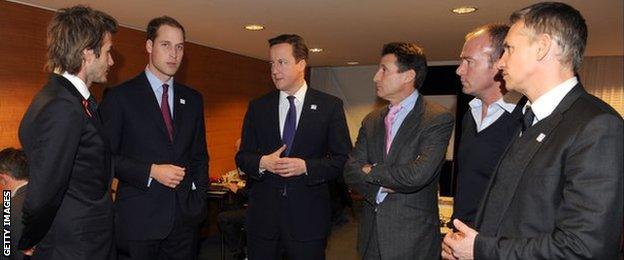 Lineker believes one way of forcing reform at Fifa would be for what he termed "clean" countries to boycott future World Cups - although he acknowledged that would be unlikely to happen.
"It is such a shame because it is a massive sport and means so much to so many people," he said. "England are too straight in a way - and I am not saying that as a criticism.
"We should stand up for what is right and if that means never hosting the World Cup again, fine.
"The only way it might change is for the clean countries to turn around and say 'we are not taking part in your tournaments'. But I can't see it happening. There is too much at stake."