Reading: Sir John Madejski happy with prospective new owners
Last updated on .From the section Football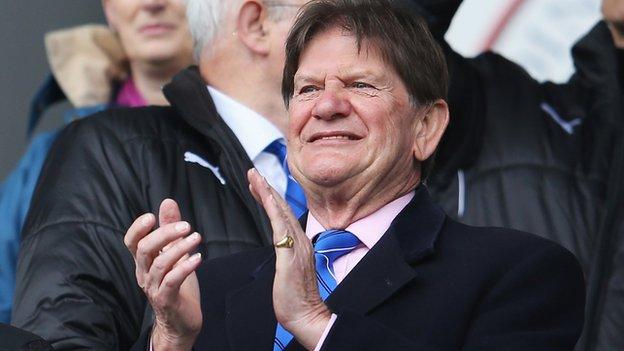 Reading chairman Sir John Madejski believes he has found the right people to take over the Championship club.
The formalities of the deal are still to be completed but Madejski said he was delighted to welcome the group.
"I have great hopes and as far as I am concerned this is the best we can do by a mile," Madejski told BBC South Today.
Reading have been trying to find a buyer since last October and majority shareholder Anton Zingarevich stood down from the board in June.
Madejski is sure the new 'partners', who will own a majority share in the Berkshire club, will prove to be more loyal owners and will be around for longer than the Russian - who bought 51% of Reading in May 2012.
"This has rolled on for a very long time since the Zingarevich family decided to up stumps and move away," he added. "We've had a tedious year but we have finally now found some very nice people to take over.
"Last time, I was so beguiled by the credentials of his billionaire status and the fact Anton went to school nearby it seemed like it was too good to be true and sadly it was. This time it was more measured."
Madejski described Khunying Sasima as a "charming lady", adding: "She has an unblemished business career behind her.
"She was educated in this country and also went to Harvard Business School. I'm delighted that her and her consortium are finally giving Reading some stability.
"It has been very hairy for the past year since the Russians departed and (I'm delighted) that we have such sweet people coming in to take over the club."
Madejski says the new shareholders have "extremely deep pockets" and hopes if the deal goes through soon they will be able to sign new players ahead of the transfer deadline.
"They are ambitious," he said. "I'm sure before the start of this season we will see some changes."