Clermont Foot: Female coach Corinne Diacre set for first match
Last updated on .From the section European Football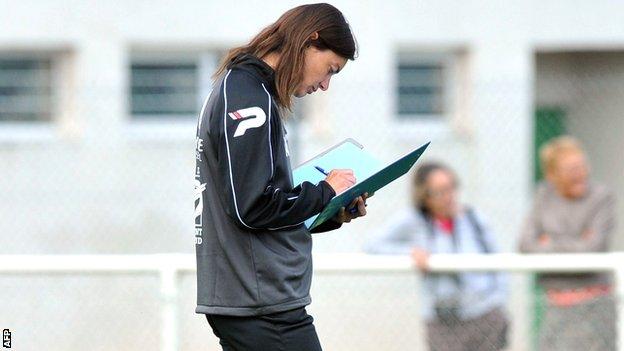 Corinne Diacre, the only female coach of a men's professional team in a major European country, takes charge of Clermont Foot on Monday.
Diacre, 40, was appointed in June on a two-year deal and leads the French second division team against Brest.
She replaced Portuguese Helena Costa, who resigned abruptly in June the day before taking charge of the team.
"All this interest is over the top with regards to my presence," Diacre said. "I'd like to concentrate on Clermont."
Prior to Costa's appointment, the highest-profile female coach of a men's team in Europe was Carolina Morace, who took charge of Italian Serie C1 team Viterbese for two matches in 1999.
Costa did not take charge of a training session and left Clermont after complaining players were signed without consulting her, so president Claude Michy brought in Diacre, a former assistant coach to the French women's national team.
"There is serenity," former France women's international Diacre said in a video press conference on the club's website. "There will be some excitement but I'm trying not to get polluted by that.
"I'm trying to maintain my focus as much as possible and to stay as much in the shadows as possible because what interests me is that my players take the limelight, not me."