Bobby Williamson appointed Kenya coach
Last updated on .From the section Football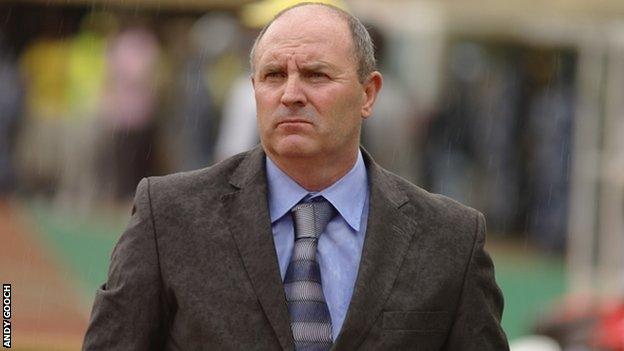 Former Uganda coach Bobby Williamson has been appointed Kenya coach.
Williamson replaces Adel Amrouche, who departed after Kenya's shock elimination from the 2015 Africa Cup of Nations qualifiers.
The Harambee Stars were knocked out 1-0 on aggregate by Lesotho on Sunday.
Football Federation of Kenya chairman Sam Nyamweya told BBC Sport: "We are very satisfied with Bobby Williamson. He took Uganda to where they are now. Let us give him a chance."
The appointment of Williamson comes despite Amrouche's insistence he has not even been informed he is no longer employed as Kenya coach.
However, Nyamweya said the Belgian was unable to remain in the post because he is suspended by the Confederation of African Football (Caf).
Amrouche is currently appealing against a one-year ban for allegedly spitting at an official during a Nations Cup qualifier against Comoros in May.
Although it appears to be a controversial and complex situation, Nyamweya feels the matter is straightforward and shifted the responsibility away from Football Federation of Kenya.
"We have not sacked him," said Nyamweya "he has been suspended by Caf for one year.
"Amrouche is not capable of doing his work so we had to get a replacement. We have no issue with Amrouche but his fate lies with Caf.
"When he finishes the suspension and if he wants to come back to the federation he has just to apply like anybody else and we will look at it."
Nyamweya also defended the decision to sack the entire Kenyan technical staff immediately after Harambee Stars' goalless draw in their second-leg match at home to Lesotho.
"They had to go," he said. "The team they fielded on Sunday...if I was a coach I would not have fielded that team, it was pathetic."
Williamson was in charge of the Cranes for five years and twice took them to the verge of qualifying for the Nations Cup - in 2013 Uganda were denied only be a penalty shoot-out loss to Zambia.
His latest role was coach of Gor Mahia, who he led to the Kenyan Premier League title last season on first attempt.
Williamson will be assisted by former Kenya international defender Musa Otieno. Simeon Mulama takes over the team managers' role.
"Otieno is a young boy, a former player and captain for 17 years who played in South Africa. He has connections all over Africa. We must give our boys a chance. These are the people we want to come up through the ranks. The same for Mulama," said Nyamweya.