Jack Rodwell: Man City midfielder completes Sunderland move
Last updated on .From the section Football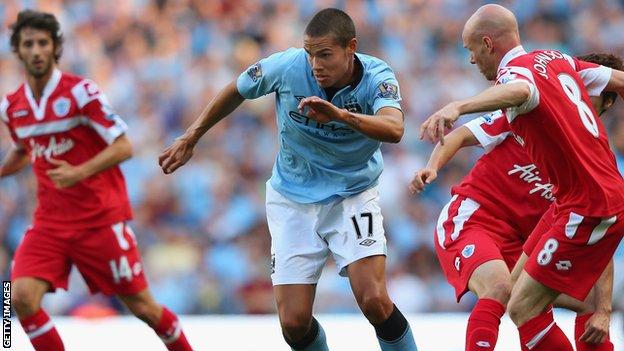 Sunderland have signed Manchester City midfielder Jack Rodwell on a five-year deal.
The England international, 23, has joined the club for an undisclosed fee, thought to be in the region of £10m.
"Regular football is the most important thing for me," Rodwell told Sunderland's website. "This is a great place for me to be."
Rodwell joined City from Everton for £12m in 2012 but played only 26 times for the club, scoring twice.
The player struggled with a hamstring injury before falling behind other midfielders in the pecking order.
Jack Rodwell in focus
Made his Everton debut against AZ Alkmaar in December 2007, aged 16 years and 284 days - becoming the youngest player to represent Everton in Europe
Made 85 league appearances for the Toffees, scoring four times
Moved to Manchester City for £12m on a five-year deal in August 2012
Played just 16 league games for City in two seasons after struggling with a hamstring injury
Made his England debut in a 1-0 win over Spain in November 2011 and has since earned two more caps against Sweden and Brazil
Rodwell admitted that his international aspirations played a part in his decision.
"Watching the World Cup left a little bit of a bitter taste in my mouth," he said. "I was supporting the team 100%, but I also wanted to be there so I think it's time I put that right.
"Without doubt the last couple of seasons I have not played nearly enough football as I have wanted to play."
Rodwell is the second high-profile Englishman to leave Etihad Stadium this summer after Gareth Barry signed for Everton.
Having failed Uefa's Financial Fair Play rules last season, City must name at least five home-grown players in their 21-man Champions League squad this season.
Frank Lampard will join them on loan for six months from New York City FC.